Adored WiFi eyes expansion in Manchester
Residential, community opportunities abound for wireless-enabled internet service provider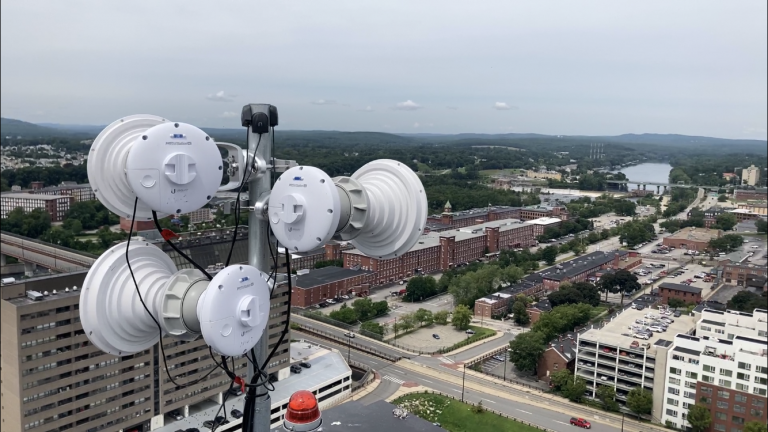 Over a year into its venture, Adored Wifi, a wireless-enabled internet service provider in downtown Manchester founded by Liz and Jeremy Hitchcock, is expanding its customer service area and the possibilities enabled by community-accessible WiFi.
"It's all about line of sight," said Liz Hitchcock, explaining how Adored placed antennas on buildings including the notable Brady Sullivan Plaza at 1000 Elm Street, which can reach customers in the North End as well as a few miles East on Hanover Hill and on the West Side – "all places we really see as our first markets."
Adored is seeking customer density as it expands its customer base, eyeing future opportunities with multi-unit dwellings. (Potential customers can check Adored's website for service area eligibility.)
It currently has approximately 100 customers, including commercial entities like The Factory on Willow, The Shaskeen, Diz's, and Hitchcock's Orbit Group and Bookery in Manchester.
"The more people we have on our endpoints, the more effective, affordable and able (we are) to continue this business," said Hitchcock.
While the city is already served by Comcast, Adored is competing based on affordability, personalization and responsiveness.
Customers pay $55 a month, after purchasing an optional router and $100 installation fee.
Adored's team maintains responsive communication and feedback with customers. One installation employee recounted the story of being recognized by a customer downtown and receiving a warm welcome.
"People want more; they want different," said Hitchcock. "Everyone's cutting the cord right now and they're realizing what they have doesn't fit their needs anymore. We're hoping to slide into that niche of what people actually need, thinking a little bit more forward of (creating) a support heavy service organization."
Minim, another company the Hitchcocks co-founded, delivers smart software-driven communications products and a personalized and secure WiFi experience, enabling Internet of Things, connected-home products.
As they launched that venture a few years ago, they realized they need to understand better the internet constraints of their customers as internet service plays a significant role in future adoption of IOT products. So they partnered with a Wilmington, Del., company called WhyFly, which had founded a successful WISP – wireless internet service provider – in a market similar to Manchester.
WhyFly Manchester took off, but Hitchcock said the two teams parted ways after seeing it was hard to run two disparate local businesses.
Despite the cities being similar, WiFi service takes on the "flavor of the community," said Hitchcock.
She envisions several community events and arts opportunities in the city that would be supported by partnering with Adored.
For instance, Adored worked with the NH Business Committee for the Arts by providing public WiFi in Arms Park so visitors could download an augmented reality program that allows them to see artwork from elsewhere in New Hampshire in that park.
"It's really cool except for it takes a lot of data," said Hitchcock. "So they're actually using our wireless up there to make sure there's enough bandwidth for people to download that program and start to use it and view the artwork."
Downtown, the Soofa sign installed outside of 848 Elm Street, uses QR codes to direct visitors to locations throughout the city.
There could be more opportunities such as these to interact with visitors and attendees at events in Manchester.
And, with ongoing developments in the multi-unit dwelling space, Adored sees future opportunities working with landlords interested in installing geo-fencing key fobs (allowing you to enter a building with your keys or phone in your pocket and a swipe of your hand), cameras or smart thermostats.
Adored's team assisted with installing such IOT devices at the Hitchcockses' newly opened residential property, The Factory.