Across region, people pitch in to help others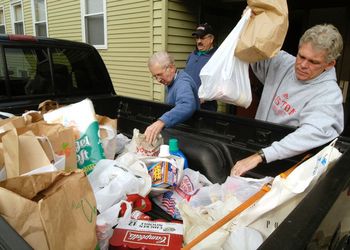 Dozens of people across Greater Nashua got into the giving groove Saturday for USA Weekend magazine's 14th annual Make A Difference Day – an event known as the largest single-day national effort to help others.
From basements to garages and stores to schools, individuals and groups organized volunteer events to help those around them. According to USA Weekend, which is included with The Sunday Telegraph, 3 million people across the country participated in the event last year.
At Daniel Webster College, the school's social science majors, along with its Mental Health Awareness Committee and a group called Friends of the Community, put together the fourth annual "We Care Bag" drive. The students and faculty involved in the project spend all year raising funds and gathering sponsors to create care packages for clients of the Nashua Soup Kitchen and Shelter.
The event began when professor Susan Nicosia – a USA Weekend reader – decided to get her social-science students to put thoughts into action. Nicosia said Saturday that the event, which created 75 bags in 2000, garnered about 200 bags this year.
The bags are made up of items the Soup Kitchen tends to run out of, such as bath towels and personal toiletries.
"It puts a good feeling inside of me to help less fortunate people, especially when it gets colder," said DWC senior Adam Elwell, a flight-operations major. "With each passing year, I get more and more involved."
DWC junior Phil Munson, a social-science major, said he has been involved with the project for three years.
"I came here to get involved in the community," Munson said. "This is something the Soup Kitchen needs a lot, as more and more people need their help."
Nicosia said the students beat their goal of 150 bags this year, but more bath towels are always needed. Paper towels are always in short supply, too, according to John Pierog of the Hudson Knights of Columbus Council 5162. Pierog paced back and forth Saturday morning in the basement of St. John the Evangelist Church's pantry building, restocking nearly empty shelves with Kleenex, toilet paper, napkins and paper towels – items the pantry (operated by the Catholic charitable organization St. Vincent de Paul) rarely has enough of.
For the past six years, the Hudson Knights of Columbus have organized their Make a Difference Day drive, working with nine area schools, three local supermarkets, three Catholic churches and numerous individuals in Hudson and Litchfield. The drive is the biggest collection for the pantry, which serves needy families of the two communities.
According to Pierog, the annual drive has collected more than 10 tons of nonperishable and household goods over the past six years, and every year it keeps getting bigger.
"We're getting more of the non-food items that these families need," Pierog said as men passed with large boxes of donations Saturday. "They're taking to heart that these people need more than just food to get through their day."
Pierog said the pantry provides assistance for about 50 families a month throughout most of the year, but that number can climb almost as high as 110 families a month at Christmastime. Eligible families come to the pantry twice a month and circle items they need from a list provided by the pantry.
"I keep thinking people will get tired of me asking every year, but we're blessed that people feel enough to give," Pierog said. "Without this drive, the shelves would be bare. During the last few weeks before the drive, I feel bad, because families are circling things that just aren't there."
People can continue to keep the pantry stocked throughout the year with donations to drop-off boxes at St. John the Evangelist Church.
Samita Mohanasundram, a seventh-grader at Pennichuck Middle School in Nashua, said there is often an emphasis on food donations when it comes time to help those in need. But the 12-year-old has made her mark by donating food for the mind.
For several years, Samita has been collecting books and school supplies to donate to areas affected by poverty and natural disasters. Last year, USA Weekend selected Samita as a local honoree for her Make a Difference Day donation of books to India. After this year's spate of back-to-back hurricanes, Samita decided to donate books to elementary and middle schools in Escambia County, Fla.
"I spent time looking for other nations in poverty," Samita said Saturday. "I've been collecting for a long time, so I have thousands of books."
Samita said she gathers donated books and does the shipping herself. She raised about $180 this year to cover the shipping costs by selling greeting cards. The young philanthropist estimates she mailed about 350 pounds of books to Florida on Saturday.
"A lot of people are donating food and money, but not many people are donating books," she said.
"It makes me feel good that I am donating things that make their life better."
What does Samita have in mind for her project next year?
"I'm not sure. It depends on what happens in the world," she said. "I want to make this a lifelong project – helping others."
Other local Make a Difference Day efforts included:
– Members of the teen council of the Boys and Girls Club of Greater Nashua spent the weekend making a difference in several ways. On Friday, volunteers helped out the at the Nashua Soup Kitchen and Shelter. On Saturday, other volunteers did some painting and landscaping at the Norwell home, a transitional housing facility on Concord Street run by the Nashua Pastoral Care Center for young women and girls who are pregnant or raising a child. Today, more volunteers are taking part in the Run for Shelter fund-raising race in Manchester.
– BJ's Wholesale Club hosted a "Heart of Gold Hero Bags" event at which kids were able to create care packages filled with snacks and decorate handmade cards with thank-you messages for military personnel stationed overseas. According to the company, more than 7,000 bags would be created at BJ's stores nationwide.
– The Nashua Breakfast Exchange Club purchased and donated 30 bags of food, toiletries, writing materials and stamps to low-income seniors identified by the Bureau of Elderly and Adult Services and Community Council. The club works to provide services to Nashua area seniors.