Accident startles students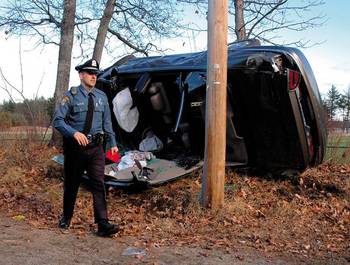 AMHERST – A car ended up on its side leaning against a utility pole just outside Souhegan High School at noontime Tuesday after it collided with a pickup truck driven by a teenage student.
The adult driver of the car, William Baker of Nashua, was not seriously hurt. The 17-year-old driver of the truck, whose identity was not released because he is a juvenile, was not injured, and the truck was not badly damaged.
A dog in the car escaped when rescue workers cut open the car to free the driver. As of Tuesday afternoon, he had not been found.
The accident happened at about 11:45 a.m. at the intersection of Boston Post Road and the main drive into Souhegan High School.
"We couldn't really see, it happened so fast," said John Matthews of Amherst, a senior at Souhegan, who witnessed the accident.
Matthews and a group of friends were leaving the school at lunchtime, walking along the high school's long entrance drive toward Boston Post Road.
A two-door Chevrolet pickup driven by a 17-year-old Souhegan student was sitting at the end of the drive, waiting to turn left, toward Route 101A, they said.
The pickup started to pull out onto two-lane Boston Post Road when it collided with a Buick LeSabre heading west, toward the center of Amherst. Matthews and his friends said the Buick appeared "He was going pretty good," Matthews said.
The truck's left front corner collided with the Buick near the car's right rear tire. The car veered to the right and up onto a small bank, flipping onto the driver's side and ending up between a utility pole and a tree. The Amherst Fire Department and Ambulance Service responded and had to cut the top off the car to free the driver.
A Jack Russell terrier was also in the Buick. The dog, apparently frightened, escaped after the car's top was removed, and ran off eastward along Boston Post Road, despite efforts of police officers, emergency workers and bystanders to catch it.
The intersection in front of the high school is notorious to local drivers, with traffic often backed up during the start and ending of school.
"We see why there's a traffic lady here," said Matthews, referring to an officer who directs traffic during high-volume times.
In 2003, the Amherst and Souhegan school districts asked voters for $1.2 million in road and parking repairs, much of which was designed to ease traffic along Boston Post Road, both into the high school and the road leading to the nearby Amherst Middle School. The bonds did not pass.