Accident aftermath closes West Hollis Street for second day in a row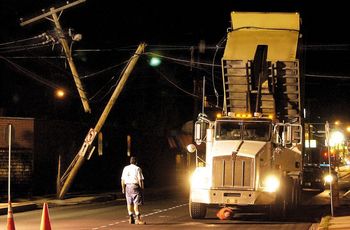 For a second morning this week downtown commuters faced delays and detours on West Hollis Street, this time after a paving truck knocked down two utility poles late Wednesday night, police said. As of Thursday morning, West Hollis Street was closed for one block from Walnut to Chestnut Street and was expected to remain closed until afternoon.
The incident happened at about 9:30 p.m. at the intersection of Chestnut and West Hollis streets, where a city construction crew was working on the paving project. It immediately left about 50 downtown residences without power and halted a city street-paving project.
Street Construction Engineer Sean Harrigan, who heads the paving project for the city, said the driver of the truck had just unloaded asphalt at the intersection of Walnut and West Hollis streets and was driving forward on West Hollis Street when the raised bed of his truck lowered onto a power line that was crossing the street.
The impact snapped one utility pole and pulled down another on each side of the street, blowing a transformer in the process.
"We were yelling 'Whoa, whoa, whoa,' and then the transformer exploded," Harrigan said.
West Hollis Street was closed from Walnut to Pine Street throughout the night with traffic detoured around the Walnut Street, according to Lt. Bruce Hansen. PSNH crews worked throughout the night, Hansen said, but other utility companies were unable to finish and the work is expected to continue throughout the day on Thursday.
"I guess this was a mess and a half," Hansen said.
The driver of dump truck, who was contracted by Brox Industries Inc., was not hurt in the incident, Harrigan said.
On Wednesday morning another construction accident closed a section of West Hollis Street west of the highway, when a contractor broke a gas service line while digging a ditch.