A second chance with wood
Furniture Masters prison outreach program offers new beginnings at New Hampshire State Prison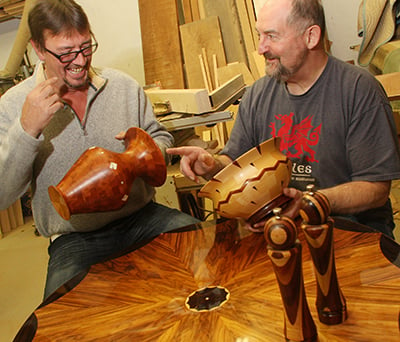 In August 2009, Donald Briere's beautiful wooden segmented floor vase won a Best in Show award at the prestigious League of New Hampshire Craftsmen's annual fair at the Mount Sunapee Resort. Less than six months earlier, Briere was an inmate at the New Hampshire State Prison in Concord, where he'd been serving for more than 15 years.
Briere says his Best in Show win and successful post-prison career as a subcontractor and woodturner is "thanks to Terry Moore" of The New Hampshire
Furniture Masters' prison outreach program.
In partnership with the prison's hobby craft program, Furniture Masters members volunteer their time to teach inmates about fine woodworking. Since the program was founded nearly 15 years ago, it's not only produced countless pieces of beautiful furniture and other wooden crafts, but has also given the men in the program practical and in-demand skills that help them secure gainful employment upon their release.
"No one from our program in 14 years has ever gone back to prison," Moore says. "We've only ever seen very, very positive results."
Because of those positive results, the program is expanding. In addition to launching a fine woodworking program in the Maine State Prison system in 2012, Moore says the Furniture Masters have been invited to talk with the Massachusetts prison program. The New Hampshire Department of Corrections is also exploring the possibility of setting up a woodworking program within the planned hobby craft space at the New Hampshire women's prison in Concord, which is currently under construction. But no final decisions have been made yet, says Jeff Lyons, public information officer for the New Hampshire Department of Corrections.
Inspiring work
The Furniture Masters' prison outreach program is the brainchild of Kathleen McGuire, senior associate justice of the New Hampshire Superior Court.
During a tour of the Concord men's prison about 15 years ago, she discovered that, although the inmates in the hobby craft program were learning to use power tools safely, "they had no training in woodworking techniques." So she contacted the Furniture Masters about possibly sending volunteers to run fine woodworking seminars within the hobby craft program.
Moore, of Terry Moore Fine Furniture in Wilmot and a founding member of the Furniture Masters, was among the first to join the program and visit the prison.
"I looked over the shop and evaluated the workshop space, and it was basically like a large high school woodworking shop," he says. Although the inmates could make simple items like kitchen cabinets or coffee tables, "they weren't really concentrating on the finer aspects of woodworking or furniture making."
All of that has changed. In the years since that initial visit, the fine woodworking program has offered seminars at the prisons in Concord and Berlin in woodturning, carving, using hand tools to the highest level, joinery, finishing, design and more. It's also uncovered some phenomenal talent, with many of the program participants entering pieces into Furniture Masters shows and auctions, finding post-prison careers in woodworking, and even becoming members of the League of New Hampshire Craftsmen.
"There's definitely talent in there. Some of the guys, you can tell, have a knack for that kind of work. That has to be combined with the interest and the hope to improve," says Tom McLaughlin, owner of McLaughlin Woods in Canterbury and one of the program's most active volunteers. "It means a lot to see these guys catch fire with what's possible … that they do have gifts that are useful and could be a kind gift to the world."
Moore and McLaughlin say they're often asked whether they're afraid to go into the prison and work with men who've been convicted of sometimes very violent crimes. Both say they're not; instead they find the work inspiring. But they, along with Judge McGuire, acknowledge that some people — including some of the members of the Furniture Masters — don't believe that criminals deserve such a program.
"I think it's rather shortsighted," McGuire says of the criticism. "Almost all of them are going to be released at some point, so we want them to be productive citizens and not have them continue to be drains on society."
Moore agrees, saying that the program — which has stringent rules for good behavior among participants — offers a positive choice for the inmates while they're serving their time.
"Are you going to sit there pumping weights and fighting other inmates and being part of the problem?" Moore says. "Or are you going to better your life? They're in for serious crimes … but they're not unredeemable."
A women's program?
Briere says the program has undoubtedly changed his life.
He was convicted of sexually assaulting his children, but says he has always maintained his innocence. Instead of sinking into despair or getting into trouble during his time in prison, Briere immersed himself in the hobby craft and fine woodworking programs, among other activities.
"It was just one of those experiences where you have two choices," he says. "You either give up or grab anything positive that you can."
Some of the pieces produced by Donald Briere, who received his woodworking training through the New Hampshire Furniture Masters' prison outreach program. In 2009, Briere's wooden segmented floor vase won a Best in Show award at the annual League of New Hampshire Craftmen's fair.
Having a positive experience within those four walls is certainly about more than simply learning the skills of fine woodworking.
McGuire says inmates have the opportunity to connect with and learn from hardworking, sincere men like Moore and McLaughlin, which is a rare experience for many of them. In addition, fine woodworking requires the inmates to hone other skills, like patience and attention to detail, that "will translate into other parts of their lives as well," she says.
McGuire is also pleased about the possibility of a fine woodworking program at the new Concord women's prison, which is slated to open in October 2016. She says she met with Department of Corrections Commissioner William Wrenn about it, and Lyons confirms that the commissioner was open to discussing such a program.
"I was very glad that the commissioner was supportive of the idea of having a woodworking shop in the women's prison," McGuire says.
Historically, the Goffstown women's prison hasn't had nearly the same amenities as the men's prison – the key reason why the new prison is being built. But if the woodworking program at the women's prison gets off the ground, Moore says he and his fellow volunteers "are looking forward to spearheading that when it gets time."
"If they have the talent and the motivation to do woodworking, then why not?" McGuire says of female inmates. "And the message it sends to everyone there is that you can think outside the traditional box about what jobs women are capable of doing and what jobs they could strive for."
That opportunity to strive and achieve is something that the men in the fine woodworking program have already experienced, thanks to the outreach of the Furniture Masters.
"It gives you hope," Briere says. "And makes you realize that you can do better."