A passion for history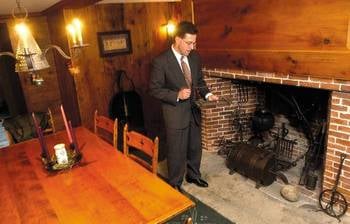 When Bill Veillette decided to move to New Hampshire, he planned to perfect his golf game, learn to play the piano and buy a sailboat. When he got here, he wound up spending his free time researching history instead.
Veillette moved to Amherst because he liked the town's historic district. He bought the Col. Robert Means House to restore its historical features – a project that has taken hundreds of hours of his time.
Within two years of his arrival in the Granite State, he was a member of both the Historic District Commission and Historical Society of Amherst.
It didn't take long for Veillette to detect a pattern.
Now, after six years of researching local history, Veillette has been named executive director of the New Hampshire Historical Society. He officially settled into his Concord office Dec. 1 to begin a job that doesn't really feel like one, he said.
"It doesn't feel like work. This is the stuff I am volunteering to do with our local historical society anyway," Veillette said.
Although a love for old things runs in his blood – his father is an amateur genealogist and his mother was an antique dealer – history wasn't always a career for Veillette.
Veillette, 44, was born in Waterbury, Conn., and spent most of his childhood in Chatham, N.Y. He graduated from Cornell University in 1982 with a bachelor of arts in economics and from Harvard Business School in 1988.
He attended the U.S. Army and Intelligence Center and School from 1982-83 then served in West Germany as a captain until 1986.
After graduating from Harvard, Veillette worked for a commercial real estate company for two years and Otis Elevator Co. in Toronto for eight, where he eventually became the regional general manager.
While working for Otis, he also served on the outside board of directors for Jackson Hewitt, a retail tax service that had the best performing U.S. stock in 1997. When the company was sold a year later, Veillette found himself with the freedom to move from Toronto and pursue other interests.
When Veillette was a child, his father would sometimes stay up until 3 a.m. researching family history. Veillette and his siblings thought their father was a little obsessive and would roll their eyes when he tried to get them excited about the research, he said.
"When you turn 40 you'll be interested, you watch," Veillette said his father used to tell him.
It didn't take Veillette quite that long to develop a passion for history – he said it happened in his late 20s. But, because Veillette was occupied by the business world, he had little time to pursue the interest.
"There just wasn't the time to do much more than read a little bit a night," Veillette said.
When Veillette moved to Amherst in 1998, he did have the time. He began researching the history of his home, which was built in 1785 and is on the village green. His goal was to find out as much about the home's past as possible and make sure its restoration was historically accurate.
He discovered that Franklin Pierce, the only U.S. president from New Hampshire, was married in the home. He also learned that Means, the original owner, is John Kerry's great-great-grandfather.
After two and a half years of research, Veillette looked into hiring an architect for the project, but soon realized few architects knew how to restore a home the way he wanted it restored.
Veillette didn't want the house to look exactly as it did in 1785. He wanted to preserve all of the different eras of history in the home, so he decided to take on the project himself.
"I became the architectural historian. I became the architect. I became the general contractor. I became the project manager. And, I did the conservation work," Veillette said.
It took him another three years to complete the work on his home, where he now lives with his wife Tracy, son Peter, and daughters Simone and Olivia.
Historic connections
Outside of history, Veillette enjoys winter sports such as skiing and ice-skating and has always had an interest in photography. He edited the photos and illustrations for the book he co-authored with Robert Rowe, titled "Amherst Historical Moments."
But, because history is his passion, Veillette spends much of his time doing research. He is particularly interested in the Revolutionary War and the subsequent process of deciding how to govern a new country.
"We were either very foolish or very brave to go against the greatest power in the world, Great Britain. And we won," Veillette said. "I find all that fascinating."
New Hampshire played a leading role in the Revolution that is rarely recognized, Veillette said. The state declared its independence before the national declaration of independence was signed and the first shot of the war was actually fired at what is now called Fort Constitution in New Castle, he said.
However, Veillette appreciates New Hampshire for more than what happened here two centuries ago; he appreciates the state for what hasn't happened to it since.
"It's the last state in New England that feels like a New England state," Veillette said.
He's not sure whether New Hampshire has retained its Old World charm because of its "live free or die" culture or the lack of an urban megalopolis, but he likes the historic character and plans to stay here, he said.
As the new executive director of the state's historical society, Veillette wants to create a stronger bond with the approximately 300 local historical societies in New Hampshire. He said there is often a perception that the state historical society serves only Concord because of its location, but that is not correct.
Veillette would also like to double itsnjmjoj membership because the nonprofit organization is dependent upon member support for its survival.
He's interested in stimulating public interest in history as well.
In Veillette's eyes, one of the purposes of history is to connect people with the town and state in which they live. And through history, he has done just that.
Maybe that explains why he enjoyed research more than leisure when he moved to New Hampshire and why he's so enthusiastic about his new career.
"I feel like the joker on Batman where his smile got stuck," Veillette said. "I haven't stopped smiling since I got the job."