A new sign of redevelopment rises at Baldwin's on Elm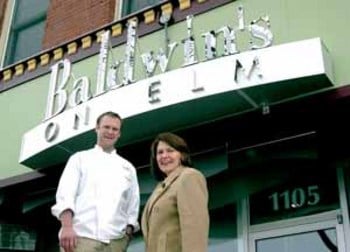 Award-winning cuisine helped Baldwin's on Elm make a name for itself, and now that name shines even more brightly above the restaurant's entrance at 1105 Elm St. in Manchester, thanks to a new facade purchased with the aid of a matching grant administered by Intown Manchester.
"The new signage has greatly improved our visibility, especially at night," said the restaurant's chef and owner, Nathan Baldwin. "It makes Baldwin's a true downtown landmark and creates a vibrant impression that also benefits other businesses south of Bridge Street."
That effect was precisely the goal of Intown Manchester's matching grant to Baldwin's, said Stephanie Lewry, executive director of the nonprofit downtown management company.
"Under our Building Improvement Program, matching grants of up to $3,500 are available to street-level commercial tenants downtown for exterior improvements, in order to promote redevelopment and attract new customers to the area," Lewry said. "We're very pleased to work with Baldwin's and help raise their profile on Elm Street. It's a destination restaurant that brings in many people from far outside the city."
For more information about the Building Improvement Program, call 645-6285 or visit intownmanchester.com.