A family farm's egg-ceptional business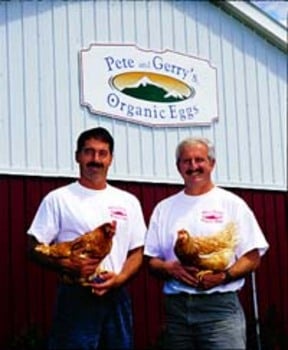 Eggs, once shunned by the health-conscious public, are making a comeback.
High in protein and vitamins, low in saturated fat and only 70 calories apiece, their benefits outweigh most cholesterol concerns. But Jesse Laflamme, his father Gerry and cousin Pete Stanton are trying to make eggs even better at their Monroe farm, Pete and Gerry's Organic Eggs.
"There are two major components to being certified organic," explains Laflamme. "First, the grains fed to the hens must be certified organic, meaning that they were grown without pesticides or herbicides, and that they have been certified organic by the U.S. Department of Agriculture. Second, care of the chicks and hens have to be certified organic. They must be fed organic grains throughout their lives. Our hens are never given any antibiotics or hormones at any part of their lives. The hens are also given space to roost, nest and scratch."
Laflamme says their five barns house about 19,000 hens apiece, far less than a conventional commercial barn of the same size, which would hold about 150,000.
"Our hens are free to roam anywhere in the barn," says Laflamme.
As food and diet trends have swung to appreciate premium products, organic food is no longer quite the niche market it once was. Local supermarket chains carry a wide variety of organic items on their shelves. The popularity of high-protein, low-carbohydrate diets, such as the Atkins Diet, has sent customers to the egg cartons in droves. Both of these trends have had a significant impact on Laflamme's business.
"People do seem to be buying more eggs. We've had sales growth every year, but this last year, we saw a 30 percent jump," says Laflamme.
He says he felt people are looking for more bang for the buck when it comes to shopping for protein foods, like eggs. "It makes sense to me that if you're going to spend money on your diet, why not get the healthiest product available?"
People will have to spend money for organic eggs — as much as $2 more per carton.
"Organic eggs are more expensive, primarily because organic feed is significantly more expensive than regular feed. It's an egg producer's largest expense," says Laflamme. "Also, we have only 18 or 19,000 hens in our barns, not 100,000, so your expenses go up there, too."
To say Laflamme's farm went organic is more of a stretch than saying the organic market came to him. "We never expanded and grew as a conventional farm the way some others did," he says. "Poultry and egg production is more industrialized than other types of farming. My family stayed small, about 100,000 hens as opposed to the large commercial farms that have 1.5 million. We just didn't like the way the business practices were going with the crowding of hens."
Laflamme is the fifth generation to farm in the Upper Valley area around Monroe, the third in the poultry business. His grandfather, who is 84 and takes care of the grounds, started the poultry arm of the business, adding it to their one-time dairy operations.
"I'm only 26, so I really have to give credit to my grandparents and parents for seeing the opportunities and seeing the risks in shifting to poultry," says Laflamme, adding that there are really no other secrets to his family business' longevity — "just hard work."
As the newest generation to run the farm, he has ideas of his own about Pete and Gerry's future. While he probably will not add more to the farm's production, he does want to work on solidifying the brand in New England. "We may bring in some other smaller farms that can produce up to our standards," he says. Organic beef also could be a possibility.
Laflamme also says he would like to produce organic milk, bringing back part of his family's farming heritage.
"I'd love to do that, but the market is tight for organic milk."