A changing SCORE remains vital in N.H.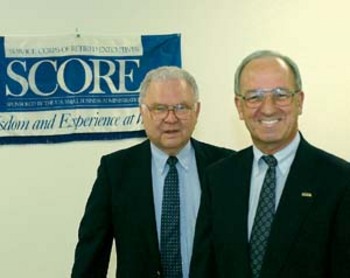 The name and purpose may remain the same but the face of one of New Hampshire's most renowned resources for new and small businesses is changing as it embraces the evolution of commerce in the Granite State.
Technology, younger retirees, women in business, mid-life career changes and a rise in volunteerism all lend to the shifting mantle of SCORE (the Service Corps of Retired Executives), according to Jim Helm, New Hampshire District director, and Harold Moldoff, marketing coordinator for New Hampshire and Vermont.
Despite the morphing of workforce dynamics, however, SCORE's values and goals have remained the same since SBA Administrator Eugene Foley formally recognized it as a national volunteer organization in 1964.
Known today as "America's counselors to small business," SCORE is a resource partner with the U.S. Small Business Administration. Its national workforce of 10,500 volunteers logged nearly 1.4 million hours in 2004, assisting would-be entrepreneurs or established small-business owners with business counseling, classes, networking and general support. It does it all on a $5 million congressional grant administered by the SBA.
In New Hampshire alone, 172 volunteers have logged 5,917 hours of counseling already this year.
"I consider SCORE to be a valuable source for outreach to the business community – particularly for start-ups," said Bill Phillips, the SBA's New Hampshire District director.
While start-up businesses make up about 80 percent of SCORE's workload, Helm said requests from existing businesses are growing. Leo Guy, recipient of SCORE's 2005 Client of the Year award, is an example. Guy went to SCORE after running LTL Liquidators in Portsmouth successfully for six years. After what he referred to as some "unfortunate events," Guy said he was in need of advice on taking his company to the next level.
"They gave us direction and the footwork we needed to do," Guy said, adding, "we would not be in existence today without these guys."
While the make-up of businesses seeking assistance from SCORE is changing, so is the demographic of volunteers. Despite its acronym, SCORE is no longer composed solely of retired executives.
During the June 13 SCORE awards luncheon, state Economic Development Director Stuart Arnett referred to SCORE as the "Service Corp of Relevant Executives," noting the shift in age and the involvement of members still actively employed.
Moldoff, who joined the organization as a volunteer counselor 15 years ago after selling his string of retail stores, remembers the average age of volunteers being in their early 70s when he joined. Incoming volunteers are now more likely to be in their early 60s, he said.
"More people joining are still in business. They have the background and feel they are in a position to give back," Moldoff said.
"Working as a SCORE counselor is really stimulating. It's satisfying knowing you are able to assist people, make a difference," said Helm, district director of the IRS before retiring in 1996 and joining SCORE as a counselor.
"It's outstanding and really gratifying to be part of an organization where everyone is like-minded and accomplishes so much," said Moldoff, SCORE's 2003 Volunteer of the Year.
Diversified expertise
Advancements in technology have brought both blessings and challenges for SCORE, making outreach easier and more affective while at the same time demanding a more technologically savvy group of volunteers.
An organization built on its enterprising ability, SCORE has been quick to embrace the influx of evolving technology, using the Web to reach out as cyber counselors to business owners who might never have had access to SCORE resources.
SCORE's cyber chapter consists of 2,000 volunteers nationwide who last year conducted 109,017 counseling sessions via the Internet. The cyber chapter is, in fact, the fastest-growing segment of SCORE, increasing by 20 percent annually.
The Internet also is allowing SCORE to market itself more efficiently. In 1997 – its first year of existence – score.org received 3.2 million hits. Last year that number had grown to over 55 million.
Advancing technology also has posed challenges for SCORE, as more and more clients visit counselors with computer-focused business ideas. SBA-sponsored technology courses were offered to SCORE counselors in a successful effort to keep volunteers on par with changing technology.
"The majority of our counselors are computer-literate. That's great, especially when the extent of our technology was an electric typewriter when we started here," Moldoff said.
While technologically able volunteers are certainly among the New Hampshire counselors, their diverse knowledge base is what's truly impressive.
There are nearly two dozen different business categories, from accounting to design engineering and manufacturing to telecommunications, listed in the Seacoast chapter's directory alone. With six chapters across the state – and two more due to be added soon — the resource list of experts for new clients is almost endless, a critical fact with an annual new-client increase of six percent.
Getting the word out
Involvement of women – both as new business owners and volunteers – is one area Moldoff and Helm would like to see increase.
According to the Center for Women's Research, majority women-owned businesses (women owning at least 51 percent of the business) accounted for only 25 percent of New Hampshire's privately held companies in 2004. That number indicates a 7.7 percent increase since 1997 and places the Granite State 46th in the country for growth in this area.
Helm and Moldoff said they have seen an increase in the number of women coming into the Seacoast chapter of SCORE and are hopeful the trend will continue.
As far as volunteers go, Helm said women account for less than 1 percent of volunteers on the Seacoast but make up 25 percent of the Mount Washington Valley membership. At most chapters, the number falls somewhere between 10 and 15 percent.
"Our goal is to see at least 25 percent of our volunteers be women, but our ideal would be 50," Helms said.
With 563 new cases walking through the doors of SCORE this year, 360 follow-on clients and 10 new volunteers, it appears efforts to get the word out about the organization is working in New Hampshire.
Helm and Moldoff place a great deal of credit for this with the ongoing outreach they and other members of SCORE are doing.
SCORE chapters work closely with banks, state and municipal organizations and civic groups with the hopes of getting SCORE's message out.
"Our goal is to make them aware that we are here for them," Moldoff said, referring to both SCORE clients and referral sources.
Both Moldoff and Helm believe guidance from someone who has already walked in the shoes of a would-be entrepreneur is perhaps the best armor against failure and the best tool for success.
"People who take the time to do their homework and go to SCORE, the SBA, take classes that are offered, generally have a better chance at success. Be prepared, know what you're getting into," Moldoff said, adding that those who choose to secure SCORE's help find themselves walking away armed with the "background, knowledge and resources they need to be a success."
For more information about SCORE counseling or becoming a volunteer, visit score.org.