$75k grant aids NHIA's Youth Arts project
$750,000 renovation of former church slated to be finished this summer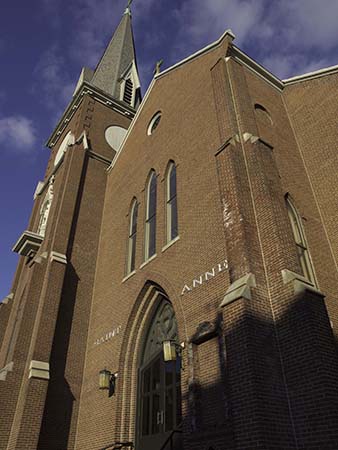 The NH Institute of Art has received a $75,000 grant from Boston-based Jane's Trust to help the college complete the $750,000 renovation of the former St. Anne's Church in downtown Manchester into a new Youth Arts Lab serving the needs of the Queen City's middle school and high school students.
The Youth Arts Lab, to be completed this summer and fully operational by the fall, will allow NHIA to offer middle school and high school students throughout greater Manchester increased access to arts instruction year-round including and after-school program offering Manchester-based teens art, design and writing instruction, regardless of a family's ability to pay as well as one- and two-week-long summer arts day camps.
"Today, we believe more passionately than ever that the college's mission — 'to educate, engage and empower through the arts' — calls on us to actively connect with our community to create a more vibrant, creative and economically sustainable Manchester," said NHIA President Kent Devereaux in a statement.
Additional funders of the Youth Arts program include the NH Community Development Finance Authority, Eastern Bank, Brady Sullivan Properties, Lincoln Financial Foundation, Riverstone Resources, Milestone Engineering, Anagnost Investments, the Norwin and Elizabeth Bean Foundation, the Penates Foundation, Harvey Construction, Central Paper, Devine Millimet, Howe Riley Howe, Northeast Delta Dental, St. Mary's Bank and Bellwether Community Credit Union.