$5k homeownership education grant goes to AHEAD
Part of new New Hampshire Housing initiative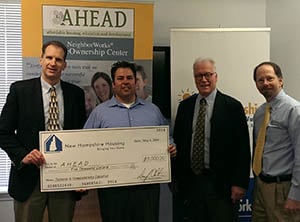 Littleton-based housing program AHEAD recently received a boost to its homeownership education efforts thanks to a $5,000 grant through New Hampshire Housing's Partners in Homeownership Education program.
The grant will be used to help cover the costs incurred in providing homebuyer counseling and education.
AHEAD, or Affordable Housing Education and Development, "has shown great dedication in providing North Country homebuyers with the knowledge they need to successfully navigate the complexities of the homebuying process," said Ignatius MacLellan, managing director of the Homeownership Division at New Hampshire Housing.
Partners in Homeownership Education is a new initiative designed to support homebuyer counseling and education and to advise buyers on how to identify and use safe, affordable mortgage programs. Grants of up to $5,000 are awarded through a competitive application process.
Nonprofits that have shown a proven track record of effective homebuyer education were invited to participate in this inaugural application round. Grant funds can be used for equipment and other capital improvements needed to enhance an organization's homebuyer education program.