52-unit Manchester multifamily sells for $1.8m
First time on market since 1980s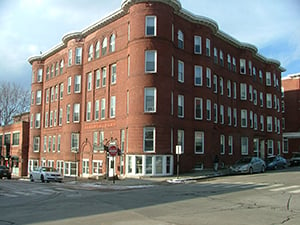 A 52-unit rental property at 70 Lowell St. in Manchester has been sold for $1.8 million by Lowell Terrace Associates to 70 Lowell LLC.
The property consists of studio and one-bedroom apartments, with some commercial space on the ground level that can be converted to apartments.
According to Matt Loguidice, principal of the buyer, "We are excited to add 70 Lowell St. to our existing portfolio of 250 rental units in Manchester."
Dan Scanlon of Colliers International's Manchester office, represented the seller and assisted the buyer.
He said there was significant interest in the property, which came to the market for the first time since it was completely renovated after a fire in the early 1980s.
Assisting Scanlon were Colliers' in-house finance team of David Eaton and Kara Buck, who were able to secure financing through a regional lender.