$40m deal to fuel ROC USA's expansion
Partnership brings institutional capital to finance resident-owned manufactured home communities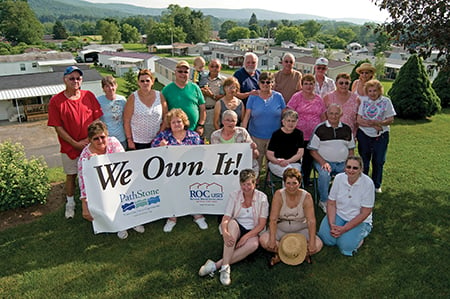 ROC USA, the nonprofit Concord-based national lender to resident-owned manufactured home communities, has secured millions in national institutional capital – what it calls a breakthrough in resident-owned community preservation.
ROC USA Capital, National Cooperative Bank and MetLife insurance company have forged a $40 million financing partnership to structure a first-mortgage acquisition/permanent loan product to finance resident-owned manufactured home communities (ROCs) at scale. NCB and MetLife will each invest $15 million and ROC USA Capital $10 million over two years to finance ROCs in 20 states.
"We launched ROC USA Capital to build a robust national market to finance the acquisition, long-term ownership, operation and improvement of manufactured home communities by the lower-income homeowners who call these neighborhoods home," said ROC USA Capital's managing director, Michael Sloss. "NCB and MetLife have joined ROC USA Capital in doing just that, and we look forward to ongoing work with these and other national institutional investors to deliver the benefits of resident ownership to tens of thousands more homeowners in ROCs across the country."
ROC USA Capital has built a $100 million portfolio of first-mortgage community acquisition/permanent loans to 42 ROCs in 11 states since it was founded in 2008 through the NH Community Loan Fund, enabling more than 3,400 low- and moderate-income homeowners to buy, preserve and improve their neighborhoods.
ROC USA Capital has carried out this work on a retail basis, partnering with 20 statewide and regional financial institutions to deliver this critical community acquisition/improvement financing.
The partnership with NCB and MetLife opens the door for other national banks, insurance companies and pension funds to finance resident-owned communities, Sloss said.
Secondary market
Paul Bradley, ROC USA's president, called the agreement a key development in ROC USA LLC's national strategy to implement its resident ownership model at scale, as national institutional investors have financed manufactured home community (MHC) acquisitions for years, committing close to $1 billion annually in the MHC sector.
Bringing such institutional investors to the resident-ownership segment of the MHC sector will enable ROC USA Capital to grow and diversify its lending and set the stage for developing an active secondary market for ROC USA Capital's loans.
"We've been very successful creating resident ownership opportunities on a relatively small scale, more than doubling our portfolio to 10,000 homes in eight years," said Bradley. "We built ROC USA to scale resident ownership and transform communities by bringing security and economic gain to the often-ignored homeowners in the country's 50,000 manufactured home communities. This loan product makes ROC USA Capital a more nimble and competitive force in that field."