300 attend celebration of Diwali in Merrimack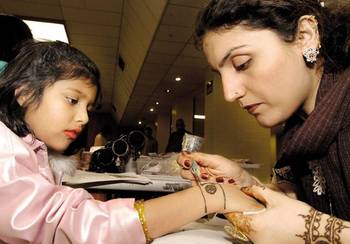 MERRIMACK – Shazia Mujeeb slowly inscribed the young hand of Elisha Shah, tracing the intricate geometry of a henna design.
Elisha, 7, of Nashua, attentively watched Mujeeb create a temporary ink tattoo that was like India itself: beautiful, intricate and interwoven from many parts.
On Saturday, those parts came together at Merrimack High School for a Diwali celebration sponsored by the India Association of New Hampshire and attended by more than 300 people, mostly Indian-Americans.
Diwali is a festival of lights, a sort of new year's celebration in the Hindu calendar and the commemoration of the triumph of a Hindu god-king over a demon.
It's a festival celebrated for two weeks on the subcontinent. In New Hampshire, it marks an occasion for the state's sizeable and disparate Indian population to join together in song, dance and traditional food.
"India's society is a diverse culture," said Manoj Chourasia, a member of the state association, which was founded in 1989.
The nation is made up of various groups that differ according to ethnicity, religion and region. There are 25 languages spoken in India, Chourasia noted, and religions beside Hindu include Christianity, Islam and Sikh.
"There are a lot of different groups. Here, we are trying to address all of them. This type of cultural program brings everybody together," he said.
It also helps the children of Indian immigrants, like Elisha, stay in touch with their roots.
"We come here pretty much every year," said her mother, Kruti Shah.
She came to the United States from Bombay. In India, she spoke three languages: Hindi, the official national language; Marathi, the official language of her state; and her ethnic "mother tongue," Gujarati.Shah and her husband, Pankaj, brought their three children to the Diwali festival. Elisha is the middle child. The oldest, Saniya, 10, performed in one of the traditional dances at the celebration. The youngest, Rikhav, 4 months, was held cradled against his mother's shoulder, taking in as much as he could of the festivities with his infant eyes.
Attending Diwali is vital for her children to learn about their roots, Kruti said.
"I just want them to learn the traditions," she said. "None of our family members are here (in the United States). This is the only way they'll learn the Indian culture."
For instance, without experiencing henna herself, how else will Elisha know it's an important part of a bride's ritual in preparing for marriage? Or that two days before her wedding, a young woman is marked with an intricate henna design extending from her fingertips to halfway up her forearm.
The darker the design remains on her wedding day, the more her husband loves her.
Cultural insights like these can't be fully appreciated by reading a textbook. That's why Denise Dowling brought a handful of students to the festival from Shortridge Academy, a boarding school in Milton for teens struggling with situations at home.
Students read Indian authors in a world cultures class. Dowling wanted to take that lesson a step further and have students to experience a little of India by attending the Diwali festival.
"It helps to experience it at least a little bit," said Jack Devlin, an 11th-grader from Baltimore. "It's more realistic."
The festival was attended by people from throughout New Hampshire and northern Massachusetts. Half of the state's Indian population lives in Nashua, noted Tej Dhakar, a professor at Southern New Hampshire University.
Manchester also has a sizeable population, and Merrimack was picked as the site for the festival because it lies between the two cities, Dhakar said.
The festival also included booths that sold traditional jewelry or art, or provided information.
At a booth sponsored by Dartmouth-Hitchcock Clinic, Dr. Sanjay Patel handed out information from the American Diabetes Association – and written in Hindi.
"A lot of older people come here from India, and to try to explain to them what they need is difficult," Patel said.
A highlight was a long buffet table of traditional food, heavy on spicy curry sauces and vegetables and rice.
For dessert, gulab jamun was offered. It's essentially a doughnut hole coated with ricotta cheese, dry milk and butter, and then deep fried and dipped in a syrup.
As lines for food snaked through the packed high school cafeteria, John Mullikin of Auburn finished a plate of curry vegetable and rice. It's a type of ethnic food he has grown to know well in the 11 years he has been married to Anu, the daughter of one of the festival's founders. Only the food his wife cooks at home isn't quite so spicy, he said.
"Actually, from when I started going to Indian festivals, I used to be the only – what am I?"
"American," his wife answered.
In this crowd, however, Americans of European descent were a minority, but a prominent minority.
"Now, it's getting more and more diverse through the years," Mulliken said.
"Which is a good thing."