30 new downtown Laconia apartments under construction
Chinburg converting 18,000-square-foot building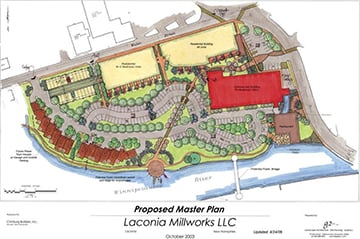 Work has begun on another phase of a downtown Laconia residential project that involves converting a warehouse-type building into 30 apartments.
Under construction by Chinburg Builders of Newmarket, the 18,000-square-foot-brick building, which was originally part of the Laconia Car Company and later the Allen-Rogers Mill, will feature one- and two-bedroom units, with some studios. The construction value of the project is $3.1 million, according to The Laconia Daily Sun.
The newspaper also reported that the Laconia Planning Board has approved Chinburg's plan to reconstruct a building near the Perley Canal at the southeast corner of the property. The site was initially intended for a restaurant, but instead will house a building with seven two-bedroom apartments, two with frontage on the Winnipesaukee River, the Sun reported.
A short stretch of the downtown riverwalk, which borders the southern edge of the Beacon Street West community, will be attached to the building and joined to a walkway leading to the Main Street Bridge, according to the newspaper.