2nd District: Campaign arguments familiar, but parties now differ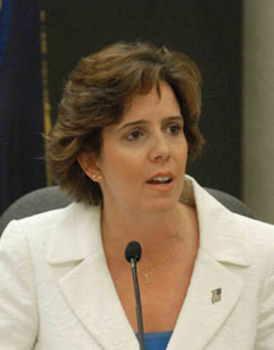 This year's 2nd Congressional District race has unfolded like so many before it.
The previous five races saw several Democratic challengers accuse Charles Bass, a six-term Republican seat-holder, of forgetting voters and joining a "business as usual" Washington crowd. Bass, in turn, defended his record with examples of constituent service and a voting record that he said reflected the district's needs.
That campaign strategy remains unchanged in 2008, but this time, a Democrat holds the seat and a Republican is making the charges.
Stealing somewhat from Bass' playbook, U.S. Rep. Paul Hodes is touting his connection to the district by listing the problems he has solved for military veterans, Social Security and Medicare recipients and pointing to the five offices he has opened in New Hampshire communities.
>>>N.H. Campaigns 2008<<< Hodes doesn't shy from detailing his voting record, but he rarely mentions the word "Washington" on the campaign trail. Yet, his Republican opponent, Nashua resident Jennifer Horn, doesn't let a moment pass without trying to connect Hodes to a Washington crowd she says has forgotten who it serves. Horn, a former Sunday Telegraph columnist and radio talk show host, has particularly criticized Hodes on the financial industry crisis. Hodes has "looked the other way" on regulating Wall Street while accepting $141,448 from banking, insurance and real estate entities as a member of the House Financial Services Committee, she said. Hodes denies that he has considered business interests over taxpayers. He points to how he twice voted against the $700 billion Wall Street bailout bill as proof he isn't beholden to business. Hodes rejected the measure because he said it didn't help homeowners and small-business owners while lacking oversight of the Treasury Department. "In the end, I decided what was best for the long-term health of New Hampshire and the nation," Hodes said. "You know, I hope I am wrong . . . and that the plan works." JENNIFER HORN Horn said she would have voted against the bailout plan. She echoes Hodes in saying the legislation was written in haste, unnecessarily loaded with pork barrel spending to appease reluctant lawmakers and placed the burden of rescuing Wall Street on taxpayers' backs. "I get concerned whenever government gets involved in artificially propping up the economy," Horn said. When asked what short-term solutions she would have proposed in place of giving the Treasury money, Horn essentially said Congress should have deliberated every possible idea before voting. She liked a House Republican proposal that would have charged premiums to holders of mortgage-backed securities to finance their insurance. The candidates may have both rejected the idea of a Wall Street bailout, but other similarities are few and far between. Hodes knocked Bass out of office in 2006 as part of the Democratic revolution of Congress. An attorney and musician, Hodes espouses the Democratic Party platform of lowering taxes for the middle class and closing corporate tax loopholes. Horn started campaigning as a mother of five children long before Alaska Gov. Sarah Palin, another mother of five, entered the political scene. Horn said having to deal with five college funds and the other expenses of raising a large family gives her the feel of what ordinary Americans need from government. And what they need is more of their tax dollars back in their pockets, she said. Hodes wants the federal No Child Left Behind act to have more funding or be replaced. Horn, meanwhile, supports school vouchers and wants local control of education over federal involvement. On foreign affairs, Hodes wants the U.S. military to begin a "responsible" troop deployment from Iraq to Afghanistan in an attempt to eliminate al-Qaida. Horn has said she won't suggest a troop withdrawal timeline in Iraq, but instead will leave that in the hands of military leadership. Hodes and Horn acknowledge that with the bailout bill and two wars, the government might have too many bills to pay. Last week, Hodes wouldn't list any programs that he would propose cutting, but he said Congress needs to look beyond the horizon of two-year election cycles and make difficult choices after a close analysis. Horn said elected officials have to stop treating tax dollars like an unlimited source of revenue. "We don't have a revenue problem; we have a spending problem," she said. Horn said proper budgeting wasn't about program cuts, but rather, reforming government. Spending bills need sunset provisions, a balanced budget amendment should be introduced and earmarks should be eliminated, she said. Horn also says government needs greater reform, citing a lack of ethics and integrity by members of both parties. Hodes also promotes ethics reform as one of his campaign staples, including helping to pass legislation that bans gifts and meals to legislators. Horn has criticized Hodes for siding with Democratic Party leadership 98 percent of the time. She said 80 percent to 90 percent accordance would be more palatable, but, "Who's right 98 percent of the time?" However, Hodes said he has gone against party leadership when it means serving New Hampshire first. His examples are voting against the bailout bill and the Foreign Intelligence Surveillance Act because of civil liberties concerns, and holding gun rights views that are more aligned with Republicans, he said. Two bills that Hodes touts as proud achievements are helping to create the Northern Border Regional Economic Commission to bring jobs to the North Country and having the president sign into law his bill that allows seriously ill or injured college students to take up to one year of medical leave without losing their health insurance. Hodes leads Horn in several polls - although some have it a close race and others have indicated many voters don't know enough about either candidate - while he has raised more campaign funds than she.