25 Years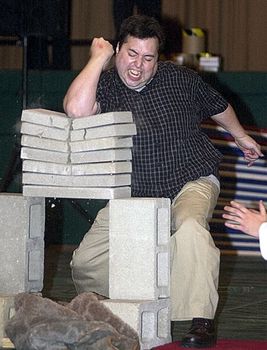 NASHUA – Maria Milton broke an almost 10-year-old record among female students of the Independent Karate School on Sunday.
She also broke seven concrete slabs with her well-aimed foot, and with a yell that resounded off the walls of the Bishop Guertin High School gymnasium.
Milton was among about 75 students, of brown- and black-belt status and aged 12 and older, participating in the school's 25th anniversary celebration, which involved an all-day exhibition.
"It felt really good because I'd been frustrated with breaking seven for a long time," said Milton, 16, of Merrimack.
She had been working on the move, called the flamingo, which involves raising one foot in the air with heel poised to strike, since last year's tournament, she said.
"This (school) is an independent island in martial arts," said headmaster Peter Desmarais, whose father Louis Desmarais founded the Nashua school in 1979 with his partner Victor Nastasia. Both are now retired engineers and highly active in the school as grand master teachers, each with the highest degree of black belt. The school has also expanded, opening a branch in Merrimack.
"We don't believe in sending (our students) to all these outside tournaments," said Peter Desmarais, who seems to enjoy conveying the accomplishments of his students that fall outside the world of karate. The school has given out more than $54,000 in college scholarships over the years, he said.
"I want this to be a place where they can develop (karate) and use it," he said. "I don't like it when it becomes their whole life."
On Sunday, several of the school's most accomplished alumni were judges, sitting back-to-back in a line of chairs in the center of the gym while two groups of contestants carried out all sorts of footwork and handwork, including breaking wooden boards, concrete slabs, and tracing fierce arcs and angles in the air meant for imaginary opponents.
In one demonstration, students brandished various weapons, including long poles, a flashing dagger-like instrument, and colorful fans with metal parts. In another, students faced each other in pairs and followed directions issued by the judges, slipping out of headlocks, falling on the floor with loud thwacks, and mildly twisting their opponents' arms.
At times, it looked more like a pantomime of fighting. The school is nonviolent, avoiding actual hitting, according to Louis Desmarais, who calls the school's form of the martial art, classical karate.
For all the throwing of bodies, swirling of weapons and aggressive grunts, there were plenty of polite "sirs" and "ma'ms" in the room; adults addressed each other with "mister" and "misses."
Pete Desmarais emphasizes the school's commitment to fostering respect and teamwork among the students.
"If you're polite to people, it stops arguments," he said.
The patrolmen and detectives involved in the school help make it clear to the younger students that they are not to use what they learn to hurt anyone, Desmarais said. The school also has a close relationship with school guidance departments in the area.
Sunish Oturkar, an 18-year-old student in electrical and computer engineering at Northeastern University, has been practicing karate for 12 years, attending the school sometimes four times a week when he lived in Nashua. He had traveled from Massachusetts to participate in the exhibition. As a black belt, he has also been able to teach at the school.
"I don't know what kind of person I'd be without this," he said.
Oturkar's experience at the karate school helped him avoid the temptations of drugs and alcohol during high school, he said.
"I was always asked, and it was always easy to politely decline," he said.
He also managed to avoid physical confrontations.
"I'm very opinionated," he said. "If people get to the point where they want to fight me, you just talk your way out of it," he said. "There are so many ways to just not fight."