$20m downtown Dover redevelopment proposed
Sept. 9 public hearing will detail Robbins Block plan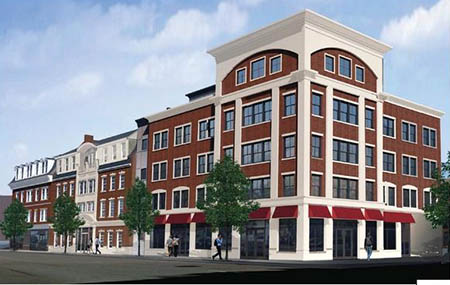 A public hearing is scheduled for Sept. 9 in Dover on developer Kostis Enterprises' $20 million redevelopment plan for the downtown Robbins Block.
Dover city councilors will hold the hearing and are expected to vote on the proposal that night, according to Foster's Daily Democrat.
Kostis said it plans to tear down the existing buildings at 104-120 Washington St. and replace them with up to three new structures. The new four- and five-story buildings could have up to 90 new apartments above first-floor commercial space.
The project would likely be built in phases. The first phase calls for a new building along Washington Street between Chestnut and Locust streets with up to 25 one- and two-bedroom apartments, the newspaper reported.
The second phase calls for a similar building that would complete the block between Chestnut and Locust streets. That building would likely have another 10 or 12 apartments. according to Foster's.
Kostis said it plans to apply for property tax relief. made possible by provisions of a state law the city recently adopted. That provision would maintain the Robbins property's existing $2.1 million valuation for five years, beginning when first new building is finished.
In return, developers would agree to minimum valuations for the property of $5 million starting in 2022 and $8 million by 2027. Those values would take effect even if market value for new structures do not reach $5 million and $8 million, Foster's reported. The agreement also does not preclude a higher valuations if the buildings are worth more than those figures.