2021 Business Excellence Winner: Amy LaBelle of LaBelle Winery
Amy LaBelle, founder and winemaker of LaBelle Winery, is the Business Excellence recipient in the Consumer Services category for a large organization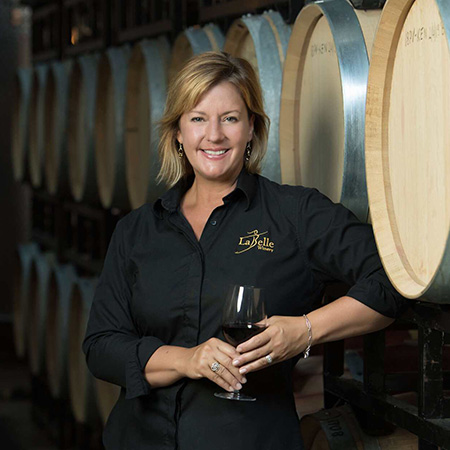 Amy LaBelle is the founder and winemaker at LaBelle Winery. Formerly a corporate attorney practicing in Massachusetts and New Hampshire, her lifelong interest in wine led her to open LaBelle Winery to pursue her passion for winemaking.
With LaBelle Winery developing into a destination winery with three locations, Amherst, Portsmouth, and Derry, Amy has slowly seen her dream realized: to focus full-time on making world-class wine in New Hampshire. Building LaBelle Winery has taught Amy so much, and she's evolved from the many lessons learned along the way. She's emerged as a strong leader and mentor, a certified winemaker, farmer, producer of farm-to-table food, innovative entrepreneur and philanthropist.
Amy is serious about her mission to provide customers with the very best culinary and wine experience, as her philosophy is to treat guests of LaBelle Winery like family. Her ultimate vision is to give back to the community through charitable giving in fulfilling, impactful and meaningful ways and grow her business exponentially to contribute more.
Her formula for success is love of learning, dedication, integrity, love of craft, innovation and passion. Every day matters, and Amy tries never to waste her days. Amy's major success is growing LaBelle Winery with her husband, Cesar Arboleda, while also balancing family life with their two sons.
Amy is also the founder of Empowering Angels, a charitable organization that empowers girls and young women to embrace the possibility of entrepreneurship.
Amy lives with her husband and co-owner of LaBelle Winery, Cesar Arboleda, and their two sons, Jackson Alejandro Arboleda and Lucas Cesar Arboleda.