2018 Business Excellence Winner: Todd Hanson of JSA Incorporated
Todd Hanson, principal architect at JSA Incorporated in Portsmouth, is the 2018 Business Excellence winner in the real estate and construction category for a small organization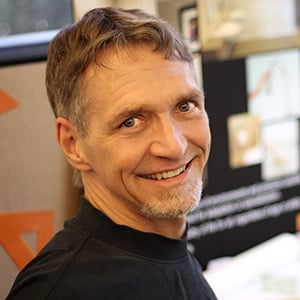 Developing a niche in behavioral health and substance abuse facilities, Todd approaches each project with the philosophy that the smallest details matter and that environments affect healing.
But it was a life-altering experience that drew Todd's focus to the importance of accessibility.
Todd lives with primary lateral sclerosis, a neuromuscular disease. He uses a wheelchair for mobility and an iPad for speech.
Experiencing first-hand the difficulty of accessing historical buildings in Portsmouth, in 2016, Todd launched Access Navigators, a website that identifies restaurants and attractions that are wheelchair accessible in three states.
This internet presence has driven business to JSA, which has become the go-to firm for getting it right for people who live with disabilities.