2017 Social Venture Challenge seeks competitors
Annual UNH event celebrates entrepreneurial solutions to societal problems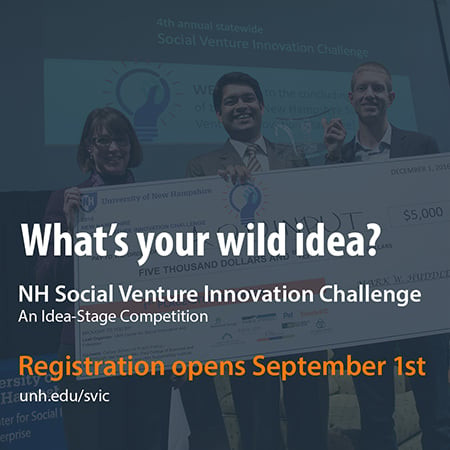 Registration has begun for the University of New Hampshire's 2017 New Hampshire Social Venture Innovation Challenge, competition that showcases the idealism and ingenuity of students and entrepreneurs across New Hampshire.
Focused on inspiring, encouraging and supporting social entrepreneurs who do not just discuss local and global challenges, but take concrete steps toward solving them, the SVIC asks contestants to design innovative, sustainable, business-orientated solutions.
To enter, no detailed plans are required, but rather proposals in the form of a three-minute video and two-page paper.
Entries can be for a new (pre-launch stage) initiative, an existing social venture in the formative stages of development (i.e. less than one-year-old), or a major new social entrepreneurial initiative for an established venture.
There are two tracks – the community track for New Hampshire residents and any UNH alumni regardless of location and another for students in any college or university in the state.
Submissions can be by individuals or teams. Full details on registration, deadlines and eligibility can be found at unh.edu/svic.
Cash prizes for the community track are: first prize, $10,000; second, $5,000; third, $2,500. In addition, PixelMEDIA will provide 100 hours of pro bono consulting to the first-place winner. Additional in-kind prizes worth approximately $7,000 are also available.
Cash prizes for the Student Track are: first prize, $5,000; second, $3,000; third, $2,000.
Submissions are due by 10 a.m. Monday, Nov. 13.
The preliminary round will be judged online by a panel of social venture leaders, funders and other experts. Eight teams in each track will be selected to advance to the final round, which will take place Tuesday, Dec. 5 in Durham.
The SVIC is organized by UNH's Center for Social Innovation & Enterprise and is co-hosted by Paul College of Business & Economics, Carsey School of Public Policy, UNH Sustainability Institute, UNHInnovation, and Net Impact UNH.