2017 Business Excellence Winner: Nicole Carrier of Throwback Brewery
Nicole Carrier, co-founder and president of Throwback Brewery in North Hampton, is the 2017 Business Excellence winner in the manufacturing category for a small organization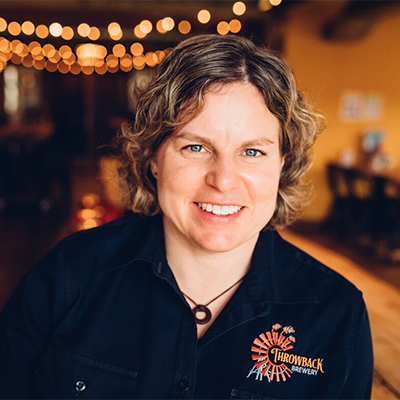 Nominated by: Alissa Holmes of Throwback Brewery
A graduate of Dartmouth College with an M.B.A. from the Tuck School of Business, Nicole's movement from a 20-year career with IBM to launching Throwback Brewery was a natural transition, albeit not without its challenges!
Teaming up with her co-founder, Annette Lee, Nicole started Throwback in 2013 as a small nano-brewery, dedicated to crafting farm-fresh beer and food from local ingredients.
But that was only the beginning of a three-year process to move the brewery into Hobbs Farm, an 1860s farmhouse on 12 acres in North Hampton that needed massive renovations.
Envisioning a 15-barrel brewery with a restaurant and warehouse, Nicole dissected each challenge through hundreds of spreadsheets – running projects and pursuing the most minor details to exhaustion.
It was this scrutiny that helped Nicole and Annette to convince a bank to back the multimillion-dollar expansion in 2015.
Creative problem-solving led the duo to win a grant from the New Hampshire Community Loan Fund, enabling them to hire a top-notch restaurant consultant. Hiring the best and brightest in each field made the whole picture come together.
The improvements are illustrated in the hard numbers, as Throwback Brewery's revenue increased 200 percent from 2014 to 2015, and the brewery continues to see high profitable growth.
Ultimately, Throwback Brewery's unique and differentiating vision of providing a community-oriented experience while making farm-fresh beer using ingredients within 200 miles has set the business apart and demonstrated Nicole's drive to accomplish her dream.