2017 Business Excellence Winner: Nancy Clark of Drive Brand Studio
Nancy Clark, owner of Drive Brand Studio in North Conway, is the 2017 Business Excellence winner in the business and professional services category for a small organization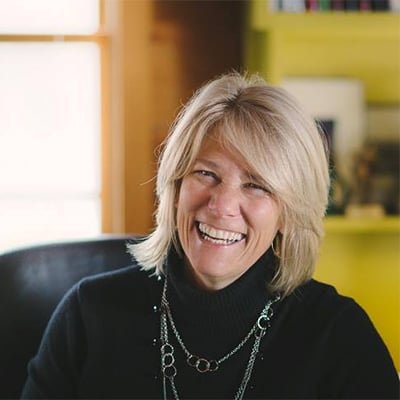 Nominated by: Donna Stuart of Drive Brand Studio
When Nancy meets with her clients, it's not "business as usual."
To the contrary, within minutes clients see Nancy's creativity, enthusiasm and ability and openness to constantly think outside of the box.
It is these qualities that make Drive Brand Studio's marketing efforts effective.
Take, for instance, Drive Brand's work to promote American Airlines' fundraisers for two nonprofit children's foundations: the Genesis Fund and the Cystic Fibrosis Foundation.
Free of charge, Nancy developed web-based programs to promote the events, helping raise $36 million for the Cystic Fibrosis Foundation and $56 million for the Genesis Fund.
What Nancy understands is the importance of building a talented team that collaborates on all projects, and rewarding her employees by making Drive Brand a family- and dog-friendly workplace with a focused, but relaxed environment.
It was in 1997 that Nancy purchased an ad agency and graphic design studio, after working in marketing for the Attitash Ski Resort for over 10 years.
When her agency, then known as the Glen Group, lost its biggest client in 2008, Nancy pushed for new ideas and new opportunities, and a new vision for the business emerged, growing as a full-service ad agency. In 2014, Nancy rebranded the company as Drive Brand Studio.
This is not the first award for Nancy and Drive Brand – in fact, Drive Brand has a long list of awards, but Nancy knows those are a byproduct of putting clients' needs first.