2016 Business Excellence Winner: Tim Hogan of the Crowne Plaza Hotel
Tim Hogan, general manager of the Crowne Plaza Hotel in Nashua, is the 2016 Business Excellence Winner in the consumer services category for a large organization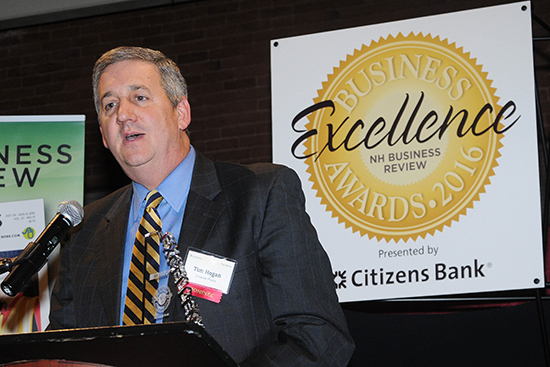 Photo by Jodie Andruskevich
Nominated by: Karen Carlisle of the Crowne Plaza Hotel
Under Tim Hogan's leadership, the Crowne Plaza has become Southern New Hampshire's community hotel.
Serving on the advisory board of Nashua Community College's culinary arts, hospitality and restaurant management program, Tim brings over 25 years of hospitality experience to the table. He continues to provide insight and ideas to build and improve programs for students. And to enhance and reinforce the lessons learned in the classroom, Tim has worked with NCC to provide internships and assist students with full-time employment within their chosen career path.
His most recent initiative has been the formation of the Nashua Education Foundation. As vice president of the board of directors and chair of the fundraising committee, Tim and fellow board members have raised tens of thousands of dollars that are used toward education initiatives through the distribution of grants to Nashua School District teachers.
Beth Kreick, president of the Nashua Education Foundation, credits Tim as a driving force in the organization's formative stages that have created its solid foundation.
Tim is also active as a member of Rotary West of Nashua, which he has belonged to since 1988. He's also is involved with the Greater Nashua Chamber of Commerce, where he served on two separate occasions with the board of directors, including serving as board chair.
It's this community spirit that has been incorporated into the Crowne Plaza itself, which provides consistency for a variety of organizations in need of a regular meeting space.
His nominator writes: "You will not be surprised to find him cooking at Spaghetti City or serving beer at the Rocking Rib Fest as well as personally supporting many other nonprofit organizations."
Tim manages the entire daily operations of the hotel and has succeeded in his strive to be the best of the best. During his tenure he received the 2009 Crowne Plaza Corporate Citizen of the Year, and his leadership has resulted in the Crowne Plaza Hotel ranking in the top 10 percent of all Crowne Plazas in America, Canada and Mexico.
Left to right: NH Business Review Editor Jeff Feingold, Tim Hogan of the Crowne Plaza Hotel and McLean Communications Publisher Sharron McCarthy.