2016 Business Excellence Winner: Steven M. Burke of McLane Middleton
Steven M. Burke, director of tax, trusts and estates, and corporate departments at McLane Middleton in Manchester, is the 2016 Business Excellence winner in the business and professional category for a large organization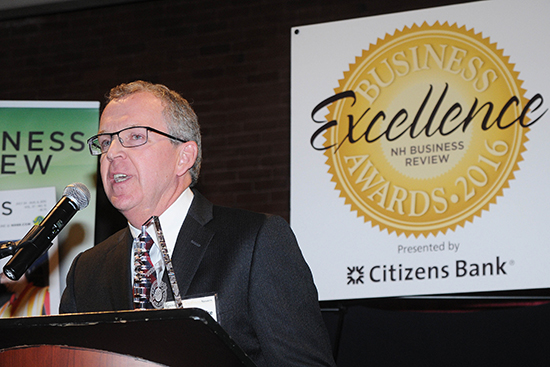 Photo by Jodie Andruskevich
Nominated by: Richard Samuels of McLane Middleton
When a Yahoo Finance reporter was seeking expertise for an article about Donald Trump's audits, he reached out to licensed CPA and attorney Steve Burke.
Because Steve is one of the best tax lawyers in the state.
He is regularly recognized by his peers, who rank him at the highest level of professional excellence in publications, including Chambers USA, New England Super Lawyers and Best Lawyers in America.
Last year, Steve was named "Lawyer of the Year" for Corporate Law, and this year he was named "Lawyer of the Year" for Tax Law.
For over 25 years, Steve has devoted his legal practice to advising on governance and tax planning, business succession and sophisticated executive compensation.
As a CPA, he has advised high-net-worth individuals, families and fiduciaries on estate planning, trust administration and wealth preservation.
He also serves as counsel for the trustees of charitable, educational and tax-exempt institutions, offering advice on fiduciary, governance and tax matters.
"Steve is the kind of person who is asked to chair every board and committee on which he serves," said his nominator.
And he is tireless in his involvement and devotion to professional organizations as an attorney and accountant.
While serving on the board of The Derryfield School, Steve formalized the board's conflict of interest policy and disclosure procedure, updated the school's bylaws and guided it through two headmaster transitions.
Steve is the only president of the New Hampshire Society of CPAs to serve twice. During that time, he helped direct the society through a change in its peer review process as well as guide it through the search for a new executive director.
It's clear that New Hampshire has benefitted in many ways from Steve's expertise and dedication.
Left to right: NH Business Review Editor Jeff Feingold, Steven M. Burke of McLane Middleton and McLean Communications Publisher Sharron McCarthy.