2016 Business Excellence Winner: Stephen Thorpe of Optiv Security
Stephen Thorpe, assistant vice president of sales for the Atlantic Coast region at Optiv Security in Portsmouth, is the 2016 Business Excellence winner in the technology category for a large organization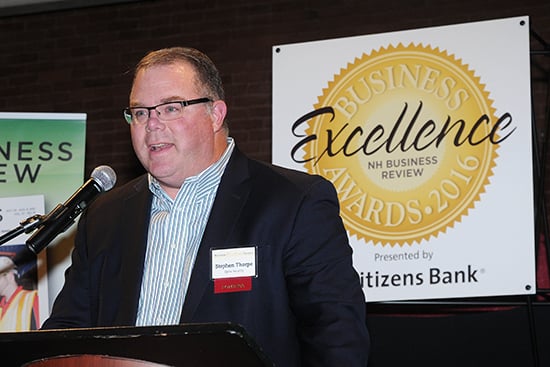 Photo by Jodie Andruskevich
Nominated by: Jason Cook of Optiv Security
While building a career in technology hardware solutions, Steve Thorpe identified an opening in the New England market to create his own company, one with his desired work-life balance that would allow him to create relationships with his clients that would last.
It was a significant risk. Steve and his wife, Margie, had three school-aged children at the time, and Steve would be taking a position with no salary or health insurance. But they deemed the risk worthy.
In 1997, Steve and Margie founded Adaptive Communications, a provider of customized, flexible IT infrastructure, information security and data storage solutions.
They started the company in their home, and got their first big break on a Friday afternoon, when a client faxed over Adaptive's first million-dollar order.
With Steve at the helm, Adaptive quickly made itself known as a company focused on the needs of New England-based organizations. Steve's emphasis on teamwork and strong relationships were the foundation of Adaptive's success.
As a father and husband who incorporated his family into his business, Steve encouraged employees to join activities both in and out of the office, solidifying employee loyalty and the success of the business.
Even through the recession, Adaptive managed to retain all of its employees, despite holding back on raises and bonuses. The result was three years of record sales.
It was this success and Adaptive's stellar reputation that caught the eye of Denver-based Optiv Security, a market-leading provider of end-to-end cyber security solutions. Recognizing he had grown Adaptive to its full potential with its current resources, Steve agreed for Adaptive to officially became part of the Optiv family this year.
But Steve is not your average entrepreneur. He wanted to remain with the company, to watch his employees thrive and to help Optiv grow.
At the point of acquisition, Adaptive had grown an impressive customer base of more than 600 organizations. Steve continues to build that customer base, just as he's done for the last 20 years.
Left to right: NH Business Review Editor Jeff Feingold, Stephen Thorpe of Optiv Security and McLean Communications Publisher Sharron McCarthy.