2016 Business Excellence Winner: Shawn Walsh of Paradigm Computer Consulting
Shawn Walsh, president of Paradigm Computer Consulting in Bedford, is the 2016 Business Excellence winner in the technology category for a small organization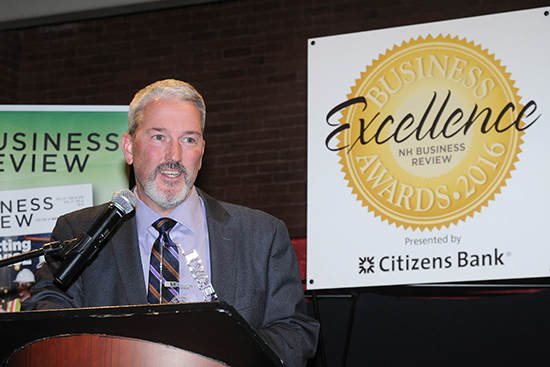 Photo by Jodie Andruskevich
Nominated by: Abigail Walsh of Paradigm Computer Consulting
Shawn Walsh is not your usual IT guy. Most IT guys haven't been a detective sergeant for a police department or taught computer crime investigation. Most IT guys haven't been one of the first pioneers in computer forensics in the state of New Hampshire, but Shawn has.
While working for the Milford Police Department, over two decades ago, Shawn was in charge of the detective division and managing their IT department, implementing their first computerized records management system.
At the New Hampshire Police Academy, Shawn taught computer crime investigation to other officers. And as an adjunct faculty member, he taught computer science classes at Franklin Pierce College.
Today, he helps clients create secure and productive working environments while safeguarding their IT issues.
Founded in 1994, Paradigm Computer Consulting has grown significantly in recent years, almost tripling its size by making four acquisitions in two years. It has offices in New Hampshire, Florida, Ohio, Virginia and Rhode Island.
For the past two years, Paradigm has been listed on Inc. Magazine's 5,000 fastest growing companies list and the MSPmentor's top 501 managed service providers list, making vast leaps in their rankings each time.
Reaching this degree of success is largely attributed to the dedication of Paradigm's employees, who come in ready to take on the day and help clients in any way they can. That atmosphere reveals itself not only in their work but also in customers' feedback.
This attitude extends to offering their IT services and equipment free of charge to the Child Advocacy Center of NH, to help them continue their work for children across the state. Recently, Shawn, who is a board member, and Paradigm received the RJ Finlay Award presented by the Child Advocacy Center of NH in appreciation for the work they do for the organization.
Paradigm has come so far because of the hard work of its employees, and a great teacher and leader like Shawn.
Left to right: NH Business Review Editor Jeff Feingold, Shawn Walsh of Paradigm Computer Consulting and McLean Communications Publisher Sharron McCarthy.