2016 Business Excellence Winner: Rosemary M. Heard of CATCH Neighborhood Housing
Rosemary M. Heard, president and CEO of CATCH Neighborhood Housing in Concord, is the 2016 Business Excellence winner in the nonprofit category for a small organization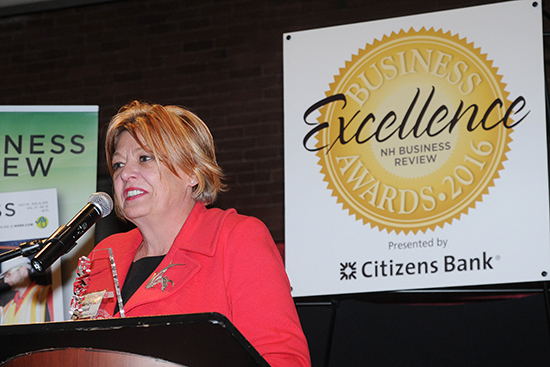 Photo by Jodie Andruskevich
Nominated by: Mark Ciborowski of Ciborowski Associates
Whether it's personally addressing the concern of a resident, graciously thanking a donor to the Your Home Capital Campaign or mentoring a staff member, Rosemary's ability to connect to everyone shines through.
She recognizes that it is community relationships that achieve CATCH's goal to not only provide housing, but also a quality of life.
And it's this philosophy that has helped CATCH expand its housing portfolio by 296%, almost tripling its ability to provide safe, affordable housing for those whom CATCH serves.
Since Rosemary started working with CATCH in 2006, its net assets have grown from $3 million to $25 million, and its staff has expanded from six to over 30 who serve over 600 adults and children in Concord and Bow.
Rosemary's own drive for improvement is also responsible for this level of success.
Through a leadership program offered by NeighborWorks America and Harvard's Kennedy School, Rosemary spearheaded the inception and growth of Alliance Asset Management. Alliance is a not-for-profit property management company that now manages all of CATCH's properties, as well as providing that service for others throughout New Hampshire and Maine.
Rosemary also co-led the creation of a member organization, HOMEteam, with NeighborWorks of Southern New Hampshire, which now provides homebuyer education and financial classes to 80 percent of the state's population.
And CATCH is currently beginning construction of the redevelopment of the Franklin Light and Power Mill, which will be CATCH's first revitalization effort in the City of Franklin. The fully-renovated mill will create 45 affordable, workforce apartments in the heart of downtown Franklin, right along the river and Odell Park.
For the past ten years, Rosemary has been responsible for the overall operation, administration and management of CATCH. With more than 25 years of private and public sector experience in the real estate industry, CATCH continues to thrive under her leadership.
Left to right: NH Business Review Editor Jeff Feingold, Rosemary M. Heard of CATCH Neighborhood Housing and McLean Communications Publisher Sharron McCarthy.