2016 Business Excellence Winner: Joseph Barbone Jr. of Methuen Construction
Joseph Barbone Jr., president, CEO and owner of Methuen Construction in Plaistow, is the 2016 Business Excellence winner in the real estate and construction category for a large organization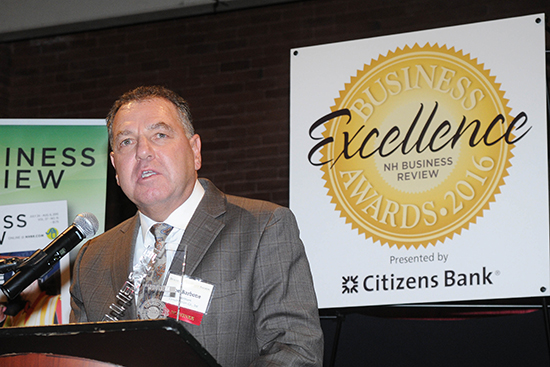 Photo by Jodie Andruskevich
Nominated by: Allen Kerr and Scott Coulombe of Methuen Construction in Plaistow
Working for Methuen Construction for over 25 years, when Joe became the sole owner in 2014, he demonstrated his commitment to growing the firm and caring for its employees, or as Joe calls them, "teammates."
Joe has made the career advancement and well-being of his teammates his top priority. He has been the driving force behind Methuen Construction's extensive Leadership Development Program, which provides teammates with the leadership skills that allow them to advance their careers with the firm.
Joe has also implemented and fully supported Methuen Construction's trade apprenticeship and internship programs. These paid programs encourage individuals to enter as well as advance their careers in trades including welding, heavy equipment operation, project management and civil and mechanical engineering. And it is these programs that are critical to the company's success, by providing teammates with vital skills to sustain growth.
The safety of every teammate and sub-contractor is also top of Joe's mind, and has been achieved through implementing comprehensive training programs for all workers, whether in the main office or on a job site. This commitment has resulted in numerous awards including 14 consecutive Safety Training Evaluation Process awards presented by the Associated Builders & Contractors Association. Methuen Construction and its wholly owned subsidiary Summit Metal Fabricators also recently passed a significant safety milestone of 500,000 hours without a lost-time injury.
During his tenure at Methuen Construction, Joe has provided the energy, commitment and leadership to develop the company into one of the most highly respected self-performing civil industrial contractors in the Northeast. He has overseen the support and implementation of projects in heavy industrial construction, water and wastewater treatment, hydro dam repair and power generation plants up to and in excess of $50 million.
Most importantly, Joe has shared the wealth of such achievements, providing 100 percent paid health insurance plans, time off for philanthropic participation, pension plans, 401K matching and a generous bonus plan that recognizes outstanding performance.
That's because Joe recognizes, to be successful, it takes a team.
Left to right: NH Business Review Editor Jeff Feingold, Joseph Barbone Jr. of Methuen Construction and McLean Communications Publisher Sharron McCarthy.