2016 Business Excellence Winner: Bob Bonfiglio of Rise Private Wealth Management
Bob Bonfiglio, managing director and private wealth advisor at Rise Private Wealth Management in Bedford, is the 2016 Business Excellence winner in the financial services category for a small organization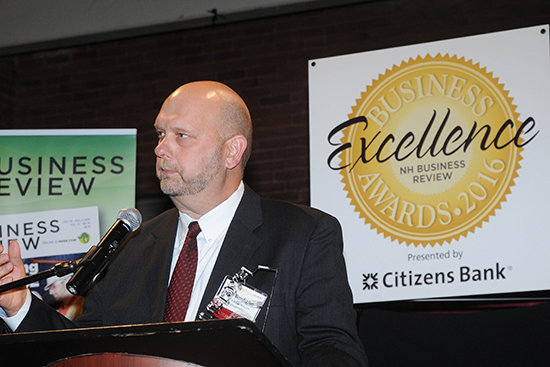 Photo by Jodie Andruskevich
Nominated by: Nikole Trost of Rise Private Wealth Management
Numbers don't lie – Bob Bonfiglio is one of the top financial advisors in the state.
For three consecutive years, he has been recognized by Barron's magazine, even ranking as No. 1 advisor in New Hampshire in 2015.
But Bob is most proud of his referrals and practice transitions.
Bob is so well respected in the community that Rise Private Wealth has become the home in the region for retiring advisors who want to leave their clients in good hands.
This customer service has led Rise to grow rapidly over the last nine years. Starting out with seven employees, Rise Private Wealth Management now has a team of 21 employees and just completed building a 22,000-square-foot office that will allow it to provide more in-house services.
Bob also believes his employees can have an impact on the community. Employees are offered four hours per month of paid time to volunteer at a site of their choice, in addition to an annual team "day of service."
Bob supports several organizations, but he is most passionate about helping Promise of Greater Nashua at Anne Marie House, which provides housing for homeless families in the Greater Nashua area as well as counseling, career guidance and financial coaching.
Since learning about the organization 13 years ago, Bob saw this as an opportunity for his family of six to help. His children played with the kids, helped with homework and Bob and his wife helped provide meals and other items that were needed. Over the years, Bob has watched the organization grow and secure a permanent location with 26 rooms.
As his nominator wrote: "What I admire about Bob's involvement with Anne Marie House is that he knows the greatest impact he can have there is not measured by how much he can donate personally, but how he can leverage his abilities and relationships."
Left to right: NH Business Review Editor Jeff Feingold, Bob Bonfiglio of Rise Private Wealth Management and McLean Communications Publisher Sharron McCarthy.