2016 Business Excellence Winner: August Fromuth of Freedom Energy Logistics
August Fromuth, managing partner and managing director of Freedom Energy Logistics in Auburn, is the 2016 Business Excellence winner in the consumer services category for a small organization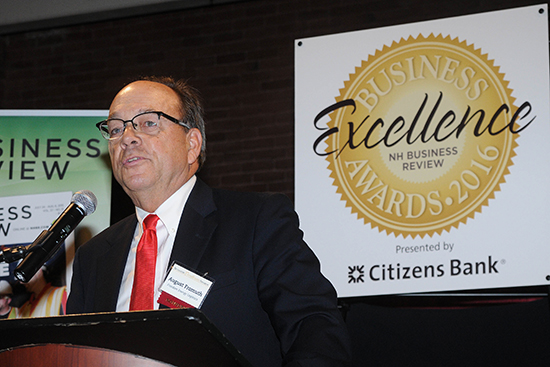 Photo by Jodie Andruskevich
Nominated by: Thomas Carter of Freedom Energy Logistics
A 32-year veteran of the energy industry, Gus has been instrumental in bringing direct market participation to end-users in New England.
Freedom Energy Logistics was founded after the electricity market was deregulated in 2004, in an effort to assist large commercial and industrial businesses in becoming members of the New England Power Pool.
By developing the Direct-to-Grid pricing model, Gus devised a sophisticated product within a highly regulated industry that allows large energy consumers to buy energy at wholesale rather than through a utility.
Over time, Freedom Energy Logistics has simplified and refined the complex process of the Direct-to-Grid model. Acting as a full-service agent, Freedom Energy manages all of the licensing, scheduling and billing for clients, as well as regulatory compliance as the market continues to evolve.
It also developed an additional channel to give smaller users the same opportunity on a smaller scale.
Today, Freedom Energy's customers range from Whole Foods to Hooksett-based Rimol Greenhouse Systems.
This past April, Gus orchestrated the most cutting-edge development yet when he advocated for a New Hampshire House Bill that forges a relationship between two of the state's small hydro-generators and the University of New Hampshire. The project enables the university to buy locally sourced energy directly, for a fraction of the cost typically incurred for green energy. The net-metering project has changed the landscape of what was previously thought possible with such large users, says his nominator.
Gus continues to be active in the New England Power Pool stakeholder process, having served as the chair of the End User Sector and vice chair of the governing body. He managed lead responsibility for developing and executing strategy that led the organization to become a significant contender in a highly competitively environment dominated by Fortune 1000, billion-dollar enterprises.
Utilizing his background in the industry, Gus and his team of over 20 workers pioneered new methods to bring down energy costs – a massive achievement.
Left to right: NH Business Review Editor Jeff Feingold, August Fromuth of Freedom Energy Logistics and McLean Communications Publisher Sharron McCarthy.