2006: the best year ever for N.H.'s exporters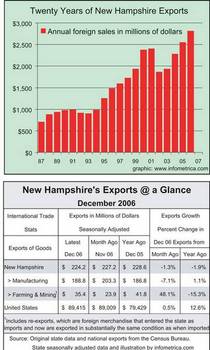 Despite monthly exports from New Hampshire companies falling 1.3 percent, to $224.2 million, in December 2006, the entire year was an historic one for the state's exporters, with exports of New Hampshire-made goods increasing to an all-time high of $2.811 billion, from $2.548 billion in 2005. That makes it the best year ever for New Hampshire's exporters.
All told, the state's international trade numbers for the entire year increased by an annual rate of 10.3 percent, putting New Hampshire at 37th among the 50 states. Nationally, exports increased by an average of 14.4 percent in 2006 – itself a 19-year high. U.S. annual export growth was better than the average export growth of the world's major 23 industrialized countries, which together posted gains of 11.3 percent in 2006, according to the International Monetary Fund.
Exports of New Hampshire's manufactured goods accounted for 84 percent of all sales abroad in December. The year ended with December sales abroad from New Hampshire's manufactures dropping by 7.2 percent from the previous month to $188.8 million, adjusted for seasonal variation.
However, exports of non-manufactured goods rose 48.2 percent in December, to $35.4 million, also adjusted for seasonal variation. This group of shipments abroad consists of agricultural goods, mining products and re-exports.
Forward-looking indicators signal that the global economic outlook — vital to economic development and export-related jobs in New Hampshire — is expected to maintain its forward motion in 2007.
The Organization for Economic Cooperation and Development, whose members include the world's 30 richest countries, reported in February that the group's leading economic indicator shows continued gains in its latest reading.
In particular, OECD's early warning indicator for the most advanced countries in the world – which tracks economic conditions nine months in advance – increased in December for the fifth month in a row. In addition, the leading indicators for the fast growing-emerging economies of China, India, Brazil and Russia posted significant progress in December, signaling that continued economic expansion lies ahead in this group of non-advanced economies.
The global leading indicators confirm the general view that worldwide economic expansion will continue in 2007. New Hampshire companies doing business abroad should see an increase in export orders, which will translate into higher production activity, increase in profits and more jobs. The link of New Hampshire's companies to global businesses is expected to be more beneficial for state economic development in 2007 than last year.
Evangelos Simos, chief economist of the consulting and research firm Infometrica Inc., is editor for International Affairs of the Journal of Business Forecasting, and professor/department chair at the Whittemore School of Business & Economics, University of New Hampshire. He may be reached at eosimos@infometrica.com.