20 years later: Recalling Lockerbie Terrorist bombing claimed life of Steve Boland on Dec. 21, 1988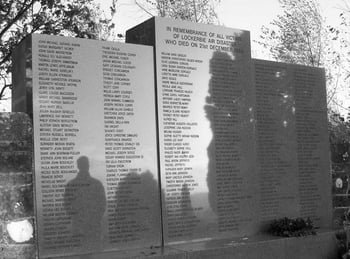 EDITOR'S NOTE: This article was written by a friend of Steve Boland's, Liam Canny, a fellow Bishop Guertin student.
On Dec. 21, 1988, 20 years ago today, Pan American World Airways Flight 103 pushed back from the gate at London's Heathrow International Airport and began its ill-fated journey to New York's John F. Kennedy Airport. The Boeing 747, the Clipper Maid of the Seas, was only the 13th jumbo jet ever built.
At the helm was Capt. James Bruce MacQuarrie from Kensington. In the cabin sat 35 Syracuse University students who were returning home for Christmas after having spent a semester studying in London.
One of these was Nashua resident Steve Boland. Altogether on board sat 243 passengers and 16 crew – 259 souls. Less than 60 minutes after takeoff, all of these people would lose their lives as plastic explosives encased in a Toshiba cassette radio and stored in a suitcase in the hold would blow Pan Am 103 apart in midair.
As the nosecone blew off, shocked passengers stared out into the Scottish night. Crueler still that night would be the fate of 11 unsuspecting Scottish villagers from Sherwood Crescent in the small border town of Lockerbie, south of Glasgow.
These unwary townsfolk lost their lives as the wing section of Flight 103, full of 200,000 pounds of fuel, rained down from the night sky and created a fireball in the street.
It obliterated six houses on impact. In total that day, 270 people from 21 countries lost their lives to a merciless terrorist attack. Twenty years ago, this task marked a shift from hijacking to sabotage as an act of terror against Western targets.
The Pan Am 103 story is replete with twists of fate. Late getting out of a recording session, The Four Tops missed the flight back home. So, too, did John Lydon, then the lead vocalist for The Sex Pistols. His wife, Nora, hadn't packed in time. "Sex and the City" star Kim Cattrall was originally booked on the flight but rescheduled to remain longer in London in order to buy a Christmas present for her mother.
Not all clients of providence cheated death, however. Five members of the Dixit-Rattan family were flying to Detroit on Pan Am Flight 67 earlier that day. Remarkably, when one of the Dixit-Rattan sons had trouble breathing, the pilot made the unusual decision to take the plane back to the gate. The Dixit-Rattans were tragically rerouted onto Flight 103.
Four U.S. intelligence officers stationed in Beirut and Cyprus boarded the plane. Forty-one American college students from three universities embarked the aircraft. All of them were making the trek home for Christmas after a semester studying abroad. Destiny would be profligate.
The twists of fate that are Pan Am 103 resonate with me. Regrettably, I lost my friend Steve Boland. One of the many college students returning home after the experience of a lifetime, it was the end of a lifetime for my pal. Fortuitously, my sister, a Notre Dame undergraduate who was also studying in London at the time, unwittingly averted disaster. This is the story of their, and my, serendipitous connection to 103.
Heady days
Twenty years ago this past October, I boarded a plane in Chicago bound for England. My sister, Eileen, had been in London for several weeks, and I was going to visit her. I was in my senior year at the University of Notre Dame, and these were heady days in the fall of 1988. The Fighting Irish were on the road to their first football national championship since 1977.
While in England, I also planned to look up two high school buddies: Steve Boland and Terry Landrigan, both of whom were studying in London. I was 21, leaving the United States for the very first time. This was going to be one hell of a trip, and I couldn't wait.
My excitement was palpable as I took my seat on the United Airlines flight for Heathrow. My sister was in class the morning of my arrival, so I took the fabled Tube to Kensington Gardens, near where she was staying, and tried to decide what to do to kill time.
After a night of travel, fatigue finally caught up with me. So, I took up station on a sturdy wooden bench and laid down with my head on my backpack. This was London. This was break. This was great.
After an indeterminate amount of time, I was rather unceremoniously awakened by shouts of "Wakey, Wakey," as the bin men on their morning route cackled and howled at my expense.
"What the hell did 'wakey, wakey' mean, anyway?" I pondered. At least these guys hadn't pinched my wallet while I was sleeping, so I wasn't too put out to be the object of their ridicule.
In any event, here came Eileen with her bobbed blonde hair and beaming smile. It was 9 a.m. After a guarded sibling embrace, we went for some breakfast at a nearby cafe. I had a big English fry-up with such local delicacies as potato waffles, black pudding (a type of sausage) and bubble and squeak (similar to hash browns).
It was a surreal experience meeting with my sister in a cafe in London on my first trip abroad. I was exhilarated with the possibilities that awaited me this upcoming week.
The next couple of days I spent with Eileen were magical. We went to the Victoria and Albert and the George and Dragon. We visited Madam Tussauds and Waxy O'Connor's. We saw Westminster Abbey, visited the Tower of London, drank tea at Harrod's and drank pints wherever we could. We made a point of seeing "Les Mis." I even coaxed Eileen into seeing England play Sweden in an international "football" game in the old Wembley Stadium. Close to 80,000 English fans raised their voices and sang in unison for 90 minutes.
It would have been easy for us to be swept up in the enthusiasm of the game, but we were sobered by the sight of placards on the walls of the stadium that stated, "If you see a bomb, don't panic. Inform a steward."
London had suffered from an IRA bombing campaign in the 1970s and early 1980s, and the stadium signs were a stark reminder of the looming threat of international terrorism.
Meeting Steve
Toward the end of my week in London, I met up with my old pal, Steve Boland. Steve was staying in the Notting Hill area of London, not far from where my sister and the other Notre Dame undergrads were staying.
As the English would say, we were mockers – buddies. He and I had gone to Bishop Guertin High School together, although he was a year behind me in school.
Steve was a classmate of four fellow Guertin grads who, like me, followed the path to Notre Dame. Terry Landrigan, Rob Smilikis, Pat O'Rourke and Jon Davison were all in the Notre Dame class of 1990. Steve and Terry were particularly tight in high school. In fact, they were inseparable.
It was great to see Steve, and I was lucky to catch up with him. He traveled extensively, using London as a base. We spent most of the night, not surprisingly, visiting some of the local pubs, which he had come to know well in the time he had spent in London.
After dark, London Town is electric. The city bristles. Pubs hundreds of years old cause the mind to wonder what famous people might have sat in our places years before.
Not to be overawed by the past, Steve and I lived for the moment. We drank in the atmosphere of girls with sexy accents, people with strange fashion sense and Olde World pubs with plenty of ambiance. We also drank in some of the local brew. Vibrant and vivacious, Steve was great company. Possessing a joie de vivre, he always wore his enthusiasm on his sleeve. He loved London, and I could see his point.
As a young man, Steve had a real vitality, a lust for life. Kindhearted, he had a knack for making others in his company feel at ease. We chatted effortlessly. Steve was even more effervescent than usual, as he seemed liberated by the freedom that often comes with living abroad, a chance to reinvent oneself. He loved The Beatles, so being in England was a fantastic experience for him.
It was a euphoric time for both of us – two lads in the prime of their lives, having the time of their lives, not knowing that one of us was nearing the end of his life.
Although London is a European capital and one of the liveliest cities in the world, it closes down relatively early. At 11 p.m., Steve and I heard some of the barmen calling, "Time, please." Time, indeed.
As punters (patrons) in the pub lingered with their last pints, Steve and I loitered with intent. We didn't want the evening to end. In time, the barmen became more insistent with quips like, "Right, folks. You don't have to go home, but you can't stay here," and, "Have you no homes?"
Reluctantly, we got the message and headed on our way. At 11:30 p.m., the bars of London disgorge patrons onto its pavements, streets and alleys.
London bustles as people hustle into black taxis, red double-decker buses and white Tube carriages for their journey home.
At this time of night, the West End, where we were, literally teems with revelers, many unsteady on their feet. Into this atmosphere, Steve and I flowed through a sea of humanity back to his student digs, which were within walking distance from the last pub.
As I said goodnight to Steve, he gave me a big smile and said, "See you Stateside in a few weeks," as he eased the door shut. As they say in Ireland of these fleeting moments in life, "It was an image that I will take with me to the grave."
Chance meeting
Alive, I had to scramble to the Tube. I knew from the few days I had spent in London that the Tube stopped running early – close to midnight. I was cutting it fine as I bolted from Steve's flat to the nearest underground station at Holland Park.
I bounded down the stairs to try to make it to the platform for the last train, but missed it by a few minutes. Bugger. "How the hell am I going to get back to Eileen's?" I asked myself. Disoriented, I walked back up the stairs toward street level preparing myself to ask someone if there was a late bus that ran toward Bayswater, my sister's stop.
Through a stroke of good fortune, I literally bumped into Lynn Bulkley, another friend from home. Lynn had gone to Mount St. Mary High School in Nashua. She was a student at Stonehill College. Like Steve, Terry and Eileen, Lynn was studying in London for the semester.
It was an amazing coincidence and a lucky break for me. I hadn't seen Lynn for several years, nor had I known that she was in London. She invited me back for tea and allowed me to crash on her couch.
As I drifted to sleep, I marveled that five of us from the same small corner of New Hampshire found ourselves abroad in the international metropolis that was London.
As one person's deterministic philosophy of death goes, "The day, the date, it is all written down." At the end of her time in London, my sister and several other Notre Dame students boarded Pan Am flight 103 bound for New York's JFK. It was Dec. 20, 1988. The flight took off and landed without a hitch.
I discovered later that my family's good fortune was another family's tragedy. On the next day, Dec. 21, the Boland family lost their son Steve. He was just 20 years old. To this day, I'm not sure, but I think I was one of the last people from Nashua to see Steve alive. That thought weighs on me from time to time, no more so than it has these past few months.
England today
After coming to England to earn a master's degree at Cambridge, I now make my living as a teacher at an American high school situated in Virginia Water, a leafy Surrey suburb just south of London.
I know the area of West London where Steve and I met all those years ago relatively well. A few weeks ago, I slipped into the American-style Sports Cafe in Piccadilly Circus to get my fix of college football via satellite television.
On Saturday nights, the Sports Cafe is a haunt for American college co-eds studying in London. During that evening, the bar was full of undergraduates who had that same euphoric and enthusiastic aura that enveloped my sister and Steve some 20 years before.
The Lockerbie Disaster, as it's known in the United Kingdom, was in the news intermittently as the 20th anniversary approached.
Libyan national Abdelbasset ali Mohmed al-Megrahi, the only man ever convicted for perpetrating the act of terror, has filed a third appeal against his conviction. He maintains his innocence to this date.
In October, the BBC reported that al-Megrahi now suffers from late-stage prostate cancer from his cell in Greenock Prison, near Glasgow. He will likely die of natural causes.
Panorama, a BBC television program, recently ran a story about the 103 bombing, which inspired me to make a pilgrimage to Dryfesdale Cemetery in Lockerbie to visit the Garden of Remembrance, dedicated to all those who lost their lives on the downing of Pan Am 103.
I wanted to pay my respects to Steve on this hallowed ground and remember the good times we shared. During our visit to the garden, my girlfriend, Andrea Morris, and I came across a journalist in a contorted position on the ground in front of the Flight 103 cenotaph, or monument.
Video camera in hand, he was twisting his body to get a shot of a passenger jet flying overhead. As we spoke, he told us he had been there for quite some time trying to get just the right shot. He wanted to capture an image of a passing jet's vapor trail in the sky some 30,000 feet above the memorial. He got it shortly after we arrived.
The photographer was John Wallace, a nationally recognized journalist. At the time of the disaster, he was a 14-year-old boy growing up in Lockerbie. A graduate of Lockerbie Academy, John was one of the first recipients of the Lockerbie Scholarship.
As a tribute to its lost undergraduates, Syracuse University awards a one-year scholarship to two Lockerbie Academy graduates each year. The dreadful sacrifice of Syracuse students 20 years ago has afforded a wonderful educational experience for youngsters from Lockerbie every year since 1990.
My encounter with John made me remember the words of a poem from Irish poet W.B. Yeats: "All changed, changed utterly: a terrible beauty is born."
Senseless tragedy
Trying to make sense of an act of madness is a futile exercise. Was the 103 bomb retribution for the fact that the USS Vincennes had accidentally shot down an Iranian passenger jet in July 1988? Conspiracy theories about the demise of 103 abound.
Some high-profile passengers such as John McCarthy, then the U.S. ambassador to Lebanon, and Chris Revell, the son of then the assistant director to the FBI, allegedly canceled their tickets.
For me, I take solace in the fact that my sister averted catastrophe. She now has two wonderful children and a full and happy life. However, I never think of the disaster without recalling Steve and without longing to have my old pal back.
Each year, Bishop Guertin High School awards its top graduate with the All-Guertin Award. Since Steve's death, the winner also receives the Stephen Boland Scholarship, which helps defray the cost of college tuition.
It's hard to think of Steve's untimely passing as anything other than a tragic loss, but his memory lives on in the lives of young high school graduates each year. "A terrible beauty is born."