$1m grant to help fund brownfield cleanups in Keene area
Monadnock Economic Development Corp. one of 10 agencies to receive an EPA grant
Keene area property owners will soon be able to apply for financial assistance in cleaning up contaminated sites thanks to a $1 million grant the U.S. Environmental Protection Agency announced Thursday that it's awarding to Monadnock Economic Development Corp. (MEDC).
MEDC was one of 10 agencies in the country to receive the grant to establish a revolving loan fund to clean up brownfields, according to Executive Director Cody Morrison.
"This gives the region another tool to use in support of community revitalization," he said.
According to the NH Department of Environmental Services, brownfield sites are properties for which reuse or redevelopment may be hindered due to the presence or potential presence of a hazardous substance, pollutant or contaminant. The state agency lists more than 40 of these properties in Cheshire County.
They include the former Kingsbury manufacturing site in Keene near Marlboro Street, a former Electrosonics Inc. building on Route 9A in Spofford and the former W.W. Cross tack factory on Webster Road in Jaffrey.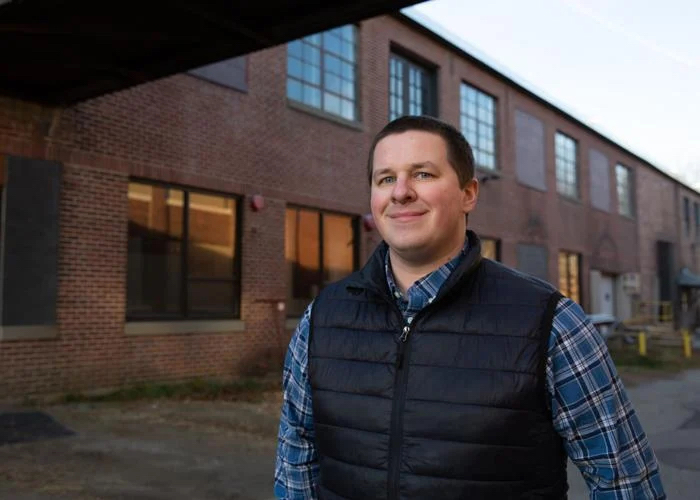 The brownfield grant 'gives the region another tool to use in support of community revitalization,' says Cody Morrison, executive director of Monadnock Economic Development Corp. (Keene Sentinel photo)
Morrison said MEDC plans to launch this new loan fund in the fall, allowing for municipal and private owners of brownfields to apply for grants and loans to clean the properties and potentially spur new development. MEDC will loan money to be paid back with interest, which Morrison said will help maintain the fund.
Morrison said the new MEDC fund will assist owners and developers with assessing properties for any potential contamination and can help with expensive cleanup costs if needed.
The EPA website explains that assessing brownfield sites is a multiphase process that begins with examining property records and databases, inspecting the site and interviewing owners, developers and past workers to determine whether there is known contamination.
If there is, a Phase II assessment is conducted, during which chemicals of concern are identified and groundwater, soil and other parts of the sites are sampled and tested. Cleanup would follow.
He added that on top of rehabilitating a property for redevelopment, the cleanup process also makes properties eligible and more desirable for resale.
Morrison said MEDC will begin accepting applications in the fall after the agency determines how to manage the program over the summer.