10 named to NH Housing Fellows program
Policy, development issues are focus of NHHFA initiative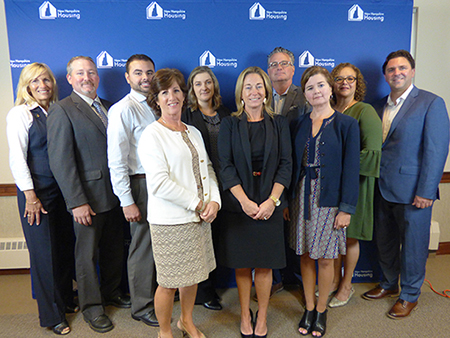 Some 10 New Hampshire professionals who work with homebuyers have been named 2019 NH Housing Homeownership Fellows, part of a program that gives participants the opportunity to explore the issues and challenges of the mortgage finance system.
Fellows participate in sessions about housing and public policy, housing and economic development, state government issues, and NH Housing Finance Authority's homeownership programs.
Part of the program involves a trip to Washington, D.C., for meetings with members of New Hampshire's congressional delegation and the opportunity to discuss issues with representatives from Fannie Mae, the Federal Housing Administration and USDA Rural Development.
The 2019 New Hampshire Housing Fellows are:
• Kara Eastman, Lend US, LLC DBA Regency Mortgage
• Lisa Ford, Bank of New Hampshire
• Leo Gagnon, Keller Williams Coastal and Lakes & Mountains Realty
• Samantha Norrie, Union Bank
• Coralie O'Brien, Federal Savings Bank
• Paul Pezone, HarborOne Mortgage
• Jake Potter, Merrimack County Savings Bank
• Evelyn Rivera, NeighborWorks Southern New Hampshire
• Justin Small, Meredith Village Savings Bank
• Mary Sullivan, Sugar River Bank
"Our Fellows program offers a unique opportunity for New Hampshire lenders and real estate professionals to gain a deeper understanding of the mortgage system and the factors that influence it," said Dean Christon, executive director of NHHFA. "Beyond learning about residential lending practices and housing issues at the local and national level, they will explore affordable housing issues in the Granite State."