1 month, 1 book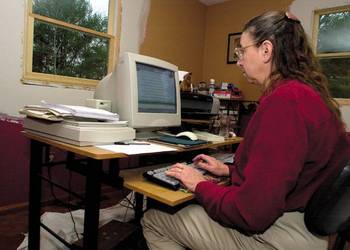 Why would any sane person decide to write a 175-page, or 50,000-word, novel in 30 days? That equals about 1,700 words a day.
November is National Novel Writing Month, or NaNoWriMo, and apparently thousands of people accept the challenge each year. This year, about 40 New Hampshire residents are taking part, including Nikki Andrews of Curtis Farm Road in Wilton.
"It is enormous fun," Andrews said, "tremendously stimulating, and hugely satisfying. Also, it's cool to say 'I'm writing a novel this month.'"
Plus, her husband Dave does the dishes, she says.
Andrews hopes to be one of thousands to complete the project by Dec. 1.
According to a NaNo brochure, in 1999, the first year, there were 21 participants, with six people completing the task. By 2003, about 25,500 took part, with about 3,500 reaching the goal.
In 2002, Andrews completed her novel "Chicken Bones" in one month and is well into this year's work. She's a little behind schedule, she said, but there is still time to catch up. "I could have a day when I write 4,000 words."
She was a little reluctant to write the first book, she said, although she has written other stories. "I kept saying, I can't possibly do this. Then I started to get a plot idea. I'd wanted to do something with this theme. What really hooked me is what they call Forums, where people talk to each other, a lot of bright, witty people doing this crazy thing, and decided I would join in the fun."
That year she reached the 50,000 words quota with about 90 minutes to spare on Nov. 30. The actual total was 50,034.
The write stuff
"It was utterly astounding. I didn't expect to get to 35,000 words," she said. "Some things I rewrote as I went along. It's all about word count, quantity, not quality."
But Andrews liked that first book. She did some work on it, and recently had it self-published.
In fact, on Friday, from 5:30-7:30 p.m., she will hold a book signing party at her place of day-employment, Art Experience, located at 460 Route 101 in Bedford. The book is also available at Toadstool Bookshop in Milford and from the publisher, AuthorHouse, 888-280-7715 or www.authorhouse.com. Cost of the book is $13.50.
"Chicken Bones" is a fantasy-science fiction work involving car racing, rock music, and an alien time-traveler who has come from the future to correct a problem, even though such corrections are against his laws. The title is the name of a song written by one of the characters.
"I knew I wanted an alien," Andrews said of the story, "and I knew I wanted him to look like a human male. For a time I was fighting over what would make him truly alien, and I thought about gender identity, you know if you are male or female. Then it hit me, different ways of discussing gender."
The alien is male, female or neuter at different phases of its life.
The concept of the story is the need for an individual to come up with his own solution for life. "You can't just accept preconceived wisdom."
Since then she has written a sequel, "A Windswept Star," but has not yet edited it.
This year's book is totally different.
"I'm trying to write a comic murder mystery, but most of it isn't comical. I have a minor character reading 'Chicken Bones.'"
This one is just for her own amusement, she said, and it is not publishable.
"The whole process of getting published was an education," Andrews said. "I did some research online for publishing houses for this kind of thing, print on demand. I settled on AuthorHouse partly because they had a real person call me. They walked through the various steps. It was nice having control over the font, where you wanted page numbers and chapter starts. It felt like my book."
'I actually wrote this'
But the original idea, and what is nicest now, is "I get to hold the book in my hands. There is the smell of the book, the feel of the paper, holding it makes it a book as opposed to a manuscript. I still have to pinch myself – I actually wrote this."
But why do it again, go through the whole agonizing process? .
"You want to be sure the first time wasn't a fluke," she said.
Andrews works as a picture framer, and is a songwriter and a craftsman.
"I don't call myself a musician," she said. "I am a self-taught guitarist. I do write music."
She began writing while living in Pennsylvania and sang with a church choir.
The group, Saint Agnes Guitar Ensemble, recorded an album. "It was quite an experience," she said, "writing with them."
Her craftwork includes knitting, counted-cross stitch, and a form of machine embroidery done over fine knitting needles, which is offered for sale. She also enjoys hiking and one of her favorite routes, the northern end of the Wapack Trail, is mentioned in "Chicken Bones." Her interest in car racing, also featured in the book, dates back many years.
She and husband Dave have lived in Wilton for seven years and have two adult sons.