Yankee Publishing acquires McLean Communications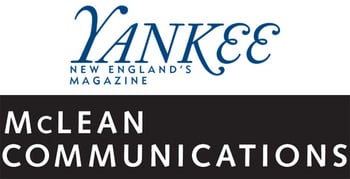 It was the first weekend in autumn, a few hours into a publishing conference at the Ritz Carlton Hotel in White Plains, N.Y., when Sharron McCarthy, president and publisher of McLean Communications (owner of New Hampshire Business Review) steered Jamie Trowbridge, president of Dublin-based Yankee Publishing Inc., into the hotel lobby.
"We've got to talk," McCarthy said.
McCarthy explained that she was told Independent Publications Inc. of Bryn Mawr, Pa., owner of a portfolio of publishing and other interests — including McLean Communications, the Nashua Telegraph, a very large Muzak franchise, and daily and weekly newspapers in Pennsylvania and Florida — was liquidating its holdings.
McCarthy had three weeks left until her one-month management preemptive with IPI ran out. After that, McLean and its publications — NHBR, New Hampshire Magazine, Parenting New Hampshire, New Hampshire Home Magazine and specialty publications — would be put on the market.
Keeping jobs intact and a plan for continued growth was her top priority, and she needed an answer in a hurry.
"I was delighted she came to me," said Trowbridge. "I didn't even know who the owner was, and was meaning to inquire, to plant the seeds, that if you are ever for sale to have a conversation. She beat me to the punch."
After three extensions, several months of secret negotiations and a final four-week crunch, the 77-year-old publisher of Yankee Magazine, the Old Farmer's Almanac and a range of other publications, bought McLean on Dec. 28, 2012, for an undisclosed amount.
It would be the first acquisition by Yankee in more than a 25 years, creating what is being touted as a "New Hampshire publishing powerhouse."
'Compelling fit'
In some ways, the companies are similar. Both have branched out into regional custom publishing.
McLean produces and publishes the magazines for several state liquor commissions (including New Hampshire's) as well as visitor guides for the Manchester and Nashua chambers of commerce.
Yankee produces the visitor guide for the New Hampshire Division of Travel and Tourism Development, as well as a similar guide for skiers, not to mention its New England Travel Guide. The hope is that the combination of reputations will help snag more of that lucrative business.
There's also the possibility of joint sales and marketing efforts involving circulation, advertising and related events, particularly between New Hampshire Magazine and Yankee Magazine.
But in other ways, the companies are vastly different.
Yankee, based in Dublin, is — in McCarthy's words — "a circulation powerhouse."
Yankee Magazine, which dates back to the Great Depression and now employs about 50, has a paid subscription base of more than 300,000. Its Old Farmer's Almanac, which dates back to shortly after the American Revolution, sells about 2 million single-sale copies, with a 50 percent sell-through rate — about 10 percent more than the industry average. Circulation accounts for about 70 percent of the magazine's revenues and 90 percent of the almanac's.
McLean's revenue model is the opposite. The publications derive about a tenth of their revenue from paid circulation, while the rest comes from advertising and sale of event sponsorships.
Each has something the other needs, said McCarthy, who called the merger "a really good fit. It's like putting a puzzle together, and when you try it, it just feels right."
Added Trowbridge: "It is the compelling nature of this fit that got me to move quickly."
Even publications like NHBR and Parenting New Hampshire, which don't seem to fit as neatly as New Hampshire Magazine, add diversity to the business, which made it even more attractive, he said.
If the deal involved only New Hampshire Magazine and the related publications, "I wouldn't have been nearly as interested," he said.
Only one position will be eliminated as a result of the acquisition. Due to consolidation, Shirley Meyers, NHBR's longtime business manager, will be taking early retirement, bringing to a close more than 25 years of helping to guide and grow the newspaper.
Both sides said they don't envision any layoffs because of the merger.
Against a deadline
It is not clear if the Nashua Telegraph — or IPI's other daily in DuBois, Pa., or its weeklies in Florida — will face the same fate.
The fact that IPI was putting those papers up for sale only became public with the McLean sale, the first print publications sold off by IPI.
But the market for newspapers is not as strong as niche publications, said Trowbridge.
"General interest publications are struggling," he said.
And more often than not, when the papers change hands, staff reductions are likely to follow.
In any case, the Telegraph promised in a recent editorial by President and Publisher Terry Williams that the paper "will continue as a local voice for Greater Nashua."
IPI knows all about newspapers. McLean Communications was named after IPI's owner, the McLean family, which had for over a century owned one of the nation's great newspapers, the late Philadelphia Bulletin.
William (Bill) McLean III, who died in August 2011, grew up in and loved the newspaper business. But it didn't take long before his son — William L. (Will) McLean IV — decided to reassess the business on behalf of the family, which decided to sell off all operations.
"When my father passed away, the intention was to continue operations, but we ultimately concluded that there was a lot of risk to the family to be tied up in a business that was changing so rapidly," McLean told NHBR. "It was painful to me, but as steward of the family business, I had to do what was in the best interest of the family."
McCarthy said she learned of the decision shortly after the July 23 board meeting.
"In my first breath, I expressed interest in trying to buy the company before it got on the open market," McCarthy said. "I wanted to control this. I wanted to be participating in our destiny."
McLean granted her wish. "We certainly liked Sharron, and we certainly wanted her to have the opportunity to put a deal together," said McLean.
Both IPI and McCarthy agreed that it would be a better deal for all involved if the publications stayed together.
But she quickly realized that the investment was too great for her to handle on her own, and while financing was available, it wouldn't have been manageable.
"I have 3- and 7-year-old daughters, and I know I'd be living and breathing work more than I already do if I owned it outright," said McCarthy. "It became clear I needed investors or to find the right company to buy us."
She added that bank financing was available, "and I had excellent interactions with local banks, accountants, lawyers and investors. It was an amazing learning experience. The investors are mostly geared to high tech, and the payback terms would not have worked for me. Publishing is not a high-profit margin business like high tech."
So instead she focused on finding a buyer, and Jamie Trowbridge was the "very first person I thought of."
Yankee Publishing has a venerable reputation and staying power. It's a family business that, like IPI, understands publishing.
For the next two months — while Yankee did its due diligence and a price was worked out — McCarthy kept the deal from the staff, only letting top managers in on the deal during the last weeks.
The broker IPI hired, Kim MacLeod, president of Connecticut-based Regional Media Advisors, said it was a bit unusual to have inside management involved, and the economy made financing more difficult, but, all in all, the deal went smoothly.
McCarthy had hoped to announce the deal at the office's annual Christmas party, which features a "Yankee swap" gift exchange.
"You could have said, 'And now for a real Yankee swap,'" Jeff Feingold, NHBR's editor, said he advised McCarthy before the party.
But the party was on Dec. 20, more than week before the deal officially closed. Instead, McCarthy was on the phone in her glass-walled office while her staff partied outside, most unaware their future hung in the balance.
Interestingly, Yankee had not been looking to grow via acquisition, Trowbridge said. The company had turned away from such a strategy in the 1980s, when it sold off several publications to concentrate on its core products. But now that the deal is done, Trowbridge said, "I'm really excited to share the knowledge of the two staffs. That's the first step."