WREN helps rural entrepreneurs take flight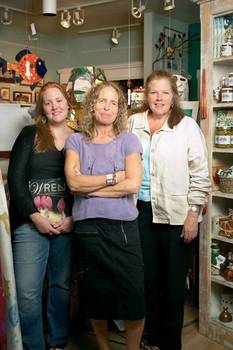 Isolation and funding concerns might be enough to purge thoughts of entrepreneurial pursuits from the minds of many women living in New Hampshire's rural areas. So it's not surprising that both thoughts crossed the mind of Elayne Belkas three years ago.
Instead of giving in to those concerns, however, Belkas turned to an organization she knew would support her efforts, offer guidance and, just possibly, offer the financial boost she needed to move forward – the Women's Rural Entrepreneurial Network.
Today Belkas, a creator of handmade, certified organic soaps and all-natural bath and body products, is the owner of Elayne's Garden in Danville – a company, she said that was brought "to a whole new level" with the help offered by WREN, as the network is known.
A $1,000 Women and Company Microenterprise Boost Program equity award given to her by WREN, and was used to develop a company logo and secure organic certification for her soaps. "We wouldn't be doing what we're doing today if it were not for WREN."
For 12 years the membership-based nonprofit organization has supported the entrepreneurial dreams of individuals living in rural communities where challenges facing start-up businesses are magnified.
"People and services are spread out and for small-business owners with retail businesses or service-oriented businesses that means having to think about people getting to them or getting their service or product to the people," said Ellen Fineberg, executive director of the Women's Business Center in Portsmouth.
Fineberg sees New Hampshire as a rural state where cities, like Nashua and Manchester, that can provide the population density needed to support growing businesses, are the exception and not the rule.
Lack of well-connected transportation systems and limited access to resources add to the list of challenges facing rural entrepreneurs, she said.
"The fastest-growing number of business owners are in urban centers, and we just don't have those," Fineberg said. "We need to be paying more attention to this in our state."
'Sense of accomplishment'
The folks at WREN have been paying attention and have lent their support to more than 1,500 entrepreneurs like Belkas, leading to the establishment of small businesses even in the most rural areas.
Now headquartered in Bethlehem, six miles east of its original Littleton offices, WREN offers entrepreneurial training and education and the opportunity for members to network with fellow business, sharing skills, knowledge and support.
"We have a holistic view of entrepreneurship," said Ashley Bliss, an AmeriCorps volunteer who plans on joining WREN's six-member staff, including new Executive Director Marilinne Cooper, by July.
For many of WREN's members, establishing their own business is a key to financial independence and flexibility – something especially important to rural families.
Fineberg believes the positive affects of small business ownership runs even deeper.
"There's a real sense of accomplishment that any business owner feels when they know they have created an entity that will help them achieve economic independence," Fineberg said. "It's about creating something that brings with it a sense of pride in their own abilities."
WREN members work to achieve this in many ways. Housed in what amounts to a small campus on the corner Bethlehem's Main Street, the WREN facility includes office space where members are invited to use business services hard to come by in rural areas, and "Wrenovations," 450 square feet of retail space where 152 members sell their products and advertise their services.
According to Katy Curnyn, WREN's director of market access, the retail space has proven a great asset in providing market access for members – a challenge for the rural entrepreneur.
Visits to annual trade shows are another way of getting products into the public eye. WREN's publication, "WRENzine," published four times a year, along with e-mail broadcasts, a Web site directory and buyer invitations round out the agency's quest for increased market access.
Passing through Wrenovations, visitors will find an art gallery where members showcase their work on a rotating basis.
The Main Street compound also has a computer lab, where members brush up on computer skills, take classes or work. The floor below houses a complete technology center where members find access to the latest business technology including a complete photo shoot lab.
In addition to the physical resources offered at WREN, the organization has worked hard to nurture supportive relationships with economic development, nonprofit and funding agencies like Women and Company, the agency responsible for annual equity awards, such as the one Belkas received to pursue the costly organic certification process for her handmade soaps.
While WREN's underlying purpose has remained virtually unchanged since its founding in 1994 – meeting the challenge of changing the lives of rural women — the organization continues to evolve. For one thing, men are now welcomed members.
Advancing technology has WREN members looking into expanding their reach to would-be entrepreneurs too far away to attend classes or take advantage of other in-house resources. Web site expansion, online training and the introduction of a message board are all being considered.
And talk continues about introducing WREN to other rural parts of the country as well.
Even the initial training program has undergone changes, according to Curnyn. Originally, a start-to-finish program, training is now being offered through individual classes, with hopes of addressing the specific needs of individual members.
"These learning modules are empowering," Bliss said. "Members get to pick what they want to learn and how they want to grow."
"WREN has gone where our membership leads," said Curnyn.
In the meantime, WREN's staff members continue to celebrate the successes they share with their growing membership.
"There are so many success stories and we all share in those," Bliss said. "But we can't take credit for WREN success stories because our members have all done it through hard work. We've just maybe given them a leg up."
For more information about WREN, visit wrencommunity.org or call 869-9736.