Workforce development 'not a drive-through process'
Hitchiner program provides hands-on experience to high school students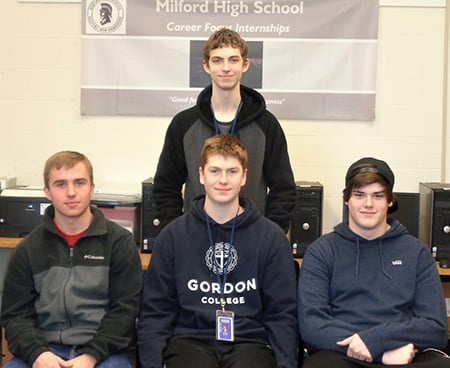 With economic conditions improving over the last few years and the state's unemployment rate dropping below 3 percent, New Hampshire companies and business groups are increasingly calling for more attention to workforce development in order to fill open jobs and sustain business growth
One company taking steps to build its workforce pipeline is Hitchiner Manufacturing, which employs more than 1,700 people worldwide, with 600 at its Milford headquarters.
Hitchiner is engaged with community colleges and the university system as well as its local high school and technical center.
For example, Hitchiner participates in Milford High School's internship program. Currently, four seniors are being mentored by Hitchiner employees. Two interns are working in Hitchiner's engineering department, one in its sales and marketing department and one is working with its Information Technology team.
Hitchiner's internship program is coordinated by Julia Fretwell, a member of the company's Human Resource Department. Fretwell works closely with Rich Paiva, a career development counselor at Milford High's Applied Technology Center, who runs the internship program.
Paiva said the internship program has grown over the past nine years from nine students each year to more than 40 today. Each year, interns work throughout the Souhegan Valley for engineering companies, construction companies, machine shops, health care organizations and restaurants.
"We've built the program so that the students have as much flexibility as possible so they can be available when the businesses that participate need them," Paiva said.
Participating students are available for their internships after 12:40 p.m. weekday afternoons and can work evenings or weekends. They typically devote four to five hours per week to their internships. They are required to work 65 hours per semester to get academic credit from the Applied Technology Center.
During their internships, students learn business etiquette and sharpen their skills in accounting, biotechnology graphic arts, computer programming and business management – all under the mentorship of experienced employees in the sponsoring businesses.
Fretwell, who is a member of Milford High's Career and Workforce Development Committee, said, "Businesses have to do more than say there is a need for workforce development, like its someone else's responsibility. They have to invest at the ground level."
Paiva has found that it's important for students to understand there are more job opportunities in their backyard than big-box retail or fast food.
"We want students to know what opportunities are available locally so they don't get the impression that the grass is greener in another labor market," he said.
Nineteen-year-old Max Ayotte of Milford was one of those students.
He interned at Hitchiner the second semester of his senior year working as an IT consultant on Hitchiner's help desk troubleshooting employee computer and network problems. He then continued in that role full-time as a summer job before he headed off to college.
"I knew it was a larger company, but I didn't recognize the full scale until I started working there. It was kind of a mind-blower. It's a big business and I got a lot of good work experience," he says.
From his perspective, Paiva said, "talking about workforce development in the abstract and doing it are two different things. We are so used to technology making things more efficient and faster, but there's no technologic wand you can wave over a high school and create a workforce. Workforce development isn't a drive-through process. It's systematic. You have to start at the grassroots and work it up from there."
Added Paiva: "We currently start career education at middle school. We actually need to start it in elementary school. A girl in the sixth grade shouldn't shut the door on being an engineer. Or a boy on being a nurse. Students need to know there are many opportunities available to them and many of those are right in their own back yard."