Women and leadership: more work needs to be done, especially in N.H.
New Hampshire lags behind other states in the number of female executives and board members, as well as in the number of women-owned businesses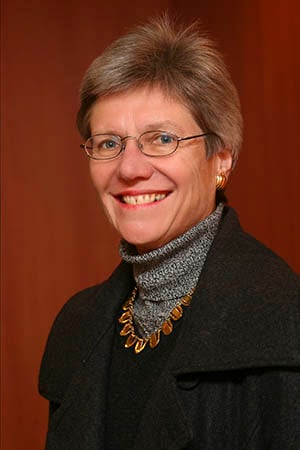 When Annabel Beerel was ethics chair at Southern New Hampshire University, she read a report called "The Economic Status of Working Women in New Hampshire." She was shocked by its contents.
"New Hampshire was rated really low in terms of opportunities for women," Beerel said. "I said to myself, 'Oh my goodness. What's going on in New Hampshire?'"
According to data from the New Hampshire Women's Initiative, what's going on in New Hampshire is an even wider gap between men and women when it comes to earnings and leadership. In the United States, women still earn only 77 cents per hour to a man's dollar, but that discrepancy is more pronounced here in New Hampshire: 71 cents to a man's dollar. The data also shows that New Hampshire lags behind other states in the number of female executives and board members, as well as in the number of women-owned businesses.
With New Hampshire's all-female congressional delegation, and with women as governor, speaker of the House, and even chief justice of the Supreme Court, it's easy to believe that when it comes to women and leadership, gender is no longer a factor. But, according to the numbers, it clearly is one.
"I think gender needs to be something that's more consciously thought about and more consciously recognized as an issue," says Beerel, who's now president and CEO of the New England Women's Leadership Institute (NEWLI), an organization she founded to get more women engaged in leadership in New Hampshire and beyond.
With this goal in mind, NEWLI is hosting its sixth annual New England Women's Leadership Summit on Thursday, June 7, at Nashua Community College. The event features 34 speakers, including journalist Liz Walker and Chris Grumm, former CEO of the Women's Funding Network. The event, with the theme, "The Courage to Lead," aims to provide women with a day of professional education and networking, as well as strategies for building confidence, risk-taking and improving their professional personas.
Learning to be assertive
Among the summit's speakers is Lucille Jordan, president of Nashua Community College, who's participating in a panel discussion about leadership in higher education. She believes that women tend to shy away from assertiveness and self-promotion, and when they do promote themselves, they do it poorly.
"Women tend not to do it well, and they're perceived to be aggressive when they do it," she says.
Beerel agrees, saying that the women's movement of the 1970s focused so much on breaking down doors that it didn't teach women how to act when they actually got through the door. As a result, many women need help developing business and leadership skills.
"We haven't focused enough on those strategies," she says. "We don't know how to be assertive and not be thrown in the mold of that aggressive woman."
Mastering those strategies is part of what Jordan plans to discuss at the summit. She says women need to learn how to work successfully within the systems in which they find themselves, rather than railing against them. That means being flexible and finding consensus in their leadership style, rather than adopting an aggressive, unyielding "my way or the highway" approach.
"For women especially, if you're seen as a top-down leader, or if that really is your leadership style, you're going to fail," she says. Moreover, women leaders should cultivate loyalty, rather than act in a mercilessly cutthroat manner to get ahead.
It's also critical that women have a big-picture understanding of the way their entire organization works, including the organization's balance sheet. Despite this basic business requirement, though, many smart, capable women have convinced themselves that they just don't understand finances.
"Women are reluctant to master the numbers," Beerel says. But not doing so is an "Achilles' heel" for women leaders, she adds.
"If you want to really participate in corporations in a meaningful way … you need to have a competent grasp of the numbers," says Beerel.
One woman who says she has no trouble with a balance sheet is Susan Strickler, director and CEO of the Currier Museum of Art and another speaker at the upcoming summit.
Although she relies on her CFO (who's also a woman) for the detailed accounting work, Strickler agrees that women in business "have to understand where the numbers come from."
She says that in New Hampshire's cultural business community, female leaders are more common, pointing to the female executives who head institutions such as Canterbury Shaker Village and The Music Hall. And although she acknowledges that women need to be more assertive in their leadership styles and in asking for raises, she believes that constant complaints about an unfair system and a lack of opportunity don't do women any favors.
"I think we have to quit thinking about what it's like to be a woman CEO versus a male CEO. I've only ever been a woman CEO. I've never been a man in my life," she says. "I tend to feel that women should just focus on doing the job."
Jordan echoes this, saying that even when encountering gender disparities, women need to learn how to change a system from within by demonstrating their skills.
"People wake up once you show what you can do," she says.
According to Beerel, all of her research shows that the longer women are in the workforce, the more the gender differences between men and women's work and leadership styles begin to disappear.
"I do not think women are fundamentally different from men," Beerel says. "I think they've been socialized differently."
But the data doesn't lie: Only a small fraction of chief executives are women.
'A serious discussion'
Events like the New England Women's Leadership Summit provide not only learning opportunities but also networking opportunities, which allow women to connect with each other to make business and personal contacts.
"I've always hated the injustice represented by 'It's not what you know, but who you know' for getting a job," says Vicki Escalera, director of internal audit at the University System of New Hampshire and state coordinator of New Hampshire Women in Higher Education Leadership. "Mathematically, however, the more people you know and the more people who know you, the better the chances you'll learn of a new job opportunity or — better yet — get recommended and recruited for one."
Joanne Randall, owner of Leap Year Marketing, runs regular business networking events at Circle 9 Ranch in Epsom, and believes that women who find support in one another gain confidence and learn to navigate the corporate world.
"Women are natural networkers," she says. "It's easier, to some degree, for women to promote themselves in a group with other women."
Women also tend to connect on a more personal level, sharing experience and advice, not only about business, but also about the ever-elusive goal of work-life balance.
"The importance of networking for most of us most of the time … is to meet people who can help us do our current jobs better and, on a more personal level, to feel a sense of connection and camaraderie," Escalera says. "I'm fascinated by other women's personal stories and the different paths they've taken to their careers. Learning of similarities in our backgrounds or in the challenges we face personally or at work can be comforting, encouraging and helpful, and learning about our differences can be downright inspirational."
Once women start to develop their voices and confidence at networking events and summits, though, they face the challenge of putting what they've learned into practice. And although many organizations have gender-equity policies in place, the salary and leadership numbers show that, clearly, those policies are not always put into practice. For example, Beerel says, her consulting work has shown that many organizations' gender-equity pay policies are often scaled and easy to manipulate.
"I think policies help, but only up to a point," she says. "If you don't get the corporations behind something, it's not going to move."
Instead of relying on policy to do all the work, she advises businesses to pay special attention to women's professional development, encourage them to take risks, and give them opportunities to learn and make mistakes.
"Gender should be a serious discussion; it should be held at senior management level at all organizations," she says.
She adds that organizations see results in the bottom line when they meaningfully help women advance to positions of leadership.
"Women who have confidence and have an ability to see the big picture and understand what the organization is about ask questions and bring perspective that is different than the men," she says. "They broaden the landscape of evaluation, of thinking through things, of exploring opportunity, and that's what's so valuable."