With FDA approval, Vapotherm prepares for product launch
Precision Flow Hi-VNI system deemed applicable for all types of respiratory distress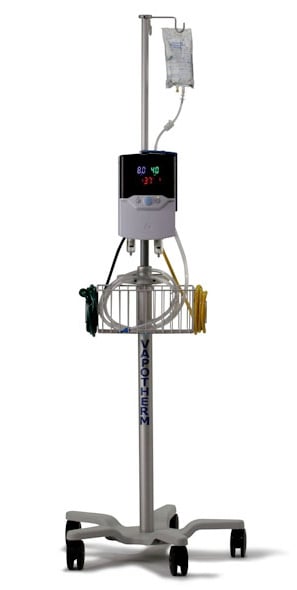 Exeter-based respiratory technology firm Vapotherm, Inc. is preparing for the 2019 launch of the latest version of its respiratory assistance product.
In a recent announcement, the company said the U.S. Food and Drug Administration had granted a new product category and product code for the latest version of the Precision Flow Hi-VNI system, which assists patients with respiratory ailments by flushing out the carbon dioxide heavy and oxygen depleted exhaled air from the upper airway between breaths and replaces it with humidified oxygen rich breathing gas delivered through a nasal cannula, without the need for a mask.
The FDA also granted an expanded indication for the system that states it may be used to augment breathing of spontaneously breathing patients suffering from respiratory distress in a hospital setting.
The determinations were made based on substantial clinical data, submitted by Vapotherm, that Hi-VNI Technology can safely and effectively be used in the treatment of undifferentiated respiratory distress in patients, ranging from newborns to adults.
The historical standard of care for non-invasive management of such patients has been Non-invasive Positive Pressure Ventilation (NiPPV), a pressure-based form of non-invasive ventilation. Vapotherm's submission included clinical evidence that Hi-VNI Technology, which is incorporated in all of Vapotherm's Precision Flow products, is non-inferior to NiPPV in preventing mechanical ventilation. (Mechanical ventilation substantially increases risk to the patient of infections, ventilator dependence and mortality, as well as increases costs to the hospital, and is typically used only when other approaches have been exhausted, according to a press release from the company.)
"We are delighted with the grant of this new product code by the FDA. We believe it clarifies the appropriate clinical use of Hi-VNI Technology and informs clinicians that it is safe to use as a tool to treat undifferentiated respiratory distress," said Dr. Michael McQueen, vice president of medical education at Vapotherm, in a press release. "It emphasizes that Hi-VNI Technology has a similar clinical application of ventilatory support to the standard of care of NiPPV, but without the tight-fitting mask."
Clinicians have seen the impact on their patients. "Many patients with respiratory distress have difficulty with the full face mask. They can become claustrophobic, making the respiratory failure worse," said Aaron Boyd, M.D., chief medical officer at Norman Regional Health System in Oklahoma, in a press release. "Vapotherm's technology helps our clinicians safely and efficiently treat these patients much more comfortably and less invasively."