With a few exceptions, NH employers are reticent in response to Trump travel ban
SNHU president worries about 'chilling effect'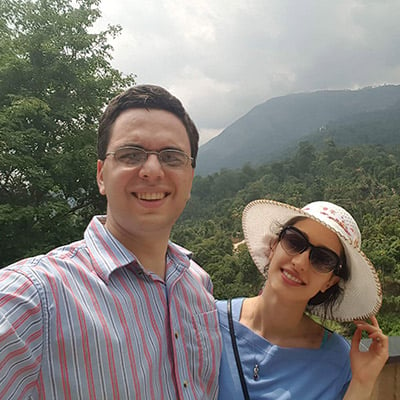 ARC Energy — a Nashua-based high-tech company that manufactures sapphire growth furnaces — was not directly affected by the Trump administration's now-blocked executive order banning travel from seven Muslim countries. But ARC's CEO, who immigrated from India to the U.S. in 1968 does feel its impact, at least in his heart.
Kedar Gupta — the "G" in GT Technologies, the company he founded before starting up ARC — said both the ban and the "polarizing" attitude behind it are "disheartening."
"Immigrants have become a bad word. It should not be. We are all immigrants, whether it's one generation or five," he said. "We need educated, trained people, and we can't find enough of them in the local population. If you don't have them, you can't compete with a world that is more complicated than one nation."
Gupta's outspokenness on the issue is more the exception than the rule in New Hampshire, where most employers contacted by NH Business Review remain reluctant to discuss the matter.
But nationally, high-tech businesses in particular might be going to war with President Trump over immigration. Microsoft, Apple, LinkedIn, Facebook, Uber and Lyft are just a few of the 127 companies that joined the suit filed by Washington state against Trump's executive order banning travel from seven Muslim countries.
The order has been rejected by two federal courts, and the administration appears to be ready to take the case to the U.S. Supreme Court.
The brief filed by the tech firms contends the executive order is not only unconstitutional but causes "substantial harm on U.S. companies" because it "hinders the ability of American companies to attract great talent; increases costs imposed on business; makes it more difficult for American firms to compete in the international marketplace."
Afterall, immigrants or their children were the founders of 200 companies on the Fortune 500, the brief argued. "Collectively, these companies generate annual revenue of $4.2 trillion, and employ millions of Americans," the brief said.
Shared concerns
No New Hampshire-based company joined the suit, and only a handful among the 127 have any direct ties to the state. One of them, Autodesk, was started in the Granite State and still employs 235 in the Manchester Millyard.
"We stand for diversity, inclusion and openness at Autodesk," said CEO Carl Bass. "We will stand with our employees, regardless of where they were born, or how they worship. And we do not support President Trump's stance on immigration."
(In an interview with PandoDaily, Bass further expressed his frustration with the order and described Trump as "acting somewhere between a dictator and a small business owner". A day after the interview, the company announced that Bass would be stepping down after 10 years in the job.)
Oracle Corp., which has a strong presence in New Hampshire, especially with its recent acquisition of Manchester-based Dyn, is one of the few high-profile tech companies that hasn't joined the litigation. Officials at Dyn wouldn't comment on the ban, nor would a dozen other high-tech companies contacted by NH Business Review.
On Feb. 9, the NH High Tech Council issued a statement, almost two weeks after Trump's order was signed. The delay was partly because the organization's chair was traveling, said Matt Cookson, the council's executive director. The council acted because "we heard from some of our national partners who have expressed some concern," said Cookson.
The council said it shared that concern over "the sudden and recent shift in our country's immigration policy" because "entrepreneurial spirit and skilled professional talent from abroad have launched many American success stories." Changes, it continued, could have "wide-ranging ramifications, especially in states like New Hampshire where there is a tech workforce shortage."
The council said it hoped for an "appropriate, thoughtful and deliberate immigration policy that better balances our national security goals and our country's need to welcome immigrants to be part of our innovation economy."
The Business and Industry Association of New Hampshire's response was more immediate, though cautious.
"President Trump needs to balance protection of the homeland with access to talented workers from around the globe by U.S. employers, particularly high-technology companies," said BIA President Jim Roche. "It appears the president's directive … over the weekend has fallen short of that goal and may require further refinement."
H-1B visas
There are several possible reasons for the state business community's mostly muted response.
Gupta thinks that many firms here are simply afraid. "They don't want to get beaten up or ridiculed."
"I'm not surprised," added Ron Abramson, an immigration attorney in Manchester and Nashua. "The situation is so volatile that nobody wants to rock the boat, even though we are in the midst of the storm."
"No one is going to talk about it," said John R. Wilson, a Concord immigration attorney who frequently consults with businesses.
It is not just a matter of fear, he said. New Hampshire might have a thriving tech sector, but it is no Silicon Valley. The companies here are smaller and aren't dependent on international talent as much, and almost all of the tech talent comes from India and Pakistan, countries not affected by the travel ban.
But that could change if Trump signs another executive order tightening up work-related visas, particular H-1B visas, which allows employers to employ foreign workers in specialty occupations — a program often used by tech firms.
There have been several reports of a draft executive order that could target the H-1B program, but even if signed, the effect would not be as immediate as the travel ban. There is currently a cap on H-1B's, and only about a third of qualified applicants get in, chosen through a lottery system.
The draft order would ask agencies to move to a more merit-based system but also require the U.S. Department of Labor to issue a report on "the actual or potential injury to U.S. workers caused … by work performed by nonimmigrant workers in the H-1B, L-1 and B-1 visa categories."
Any changes in the programs would have to be approved by Congress, which is considering recently filed legislation that is moving in the same direction.
There are at least 1,906 people with H-1B visas working in New Hampshire. Most of them have entered the U.S. through national recruiting firms like Capgemini and Infosys, though some are recruited by the companies themselves, including Liberty Mutual Group, which has 28 employees with H-1B visas, and Fidelity, which has 21.
Universities are involved as well. Dartmouth College, which currently has 54 employees with an H-1B visa, filed 183 visa applications from 2014 to 2016.
But it's not just work visas. Employers look to foreign talent arriving on student visas to attend U.S. colleges and universities. And higher-educational institutions themselves depend on foreign students for both diversity and economic viability.
'Fundamental betrayal'
The response to the ban by the state's colleges and universities has also been varied.
Dartmouth College, which has 900 international students and more than 200 international faculty members, backed the statement of the Association of American Universities, which called for ending the ban as soon as possible, not just because it hurts colleges, but "we are concerned about the impact on American competitiveness."
But Dartmouth declined to discuss the issue with NH Business Review because it didn't want to engage in "speculation."
In a statement, President Phil Hanlon expressed concern about the order, but not opposition. "These events have understandably generated great anxiety and confusion across our campus and are very troubling. The college will continue to monitor the situation."
The University of New Hampshire, which said it has 52 students from the targeted countries, was cautious.
"The University of New Hampshire continues to monitor and comply with all federal laws," said Erika Mantz in a statement. "As a flagship research university with global reach, we are committed to supporting the students, staff and faculty members who may be affected by this uncertainty and by new restrictions on immigration."
But Southern New Hampshire University President Paul J. LeBlanc did not mince words, comparing the ban to the "shameful and dark period" during World War II when the United States put its Japanese citizens in internment camps.
SNHU has students and staff affected by the order but won't release the number because it wanted to reveal as little as legally possible to authorities, he said.
"We think this order is a fundamental betrayal of human rights," said LeBlanc.
LeBlanc also worried about whether the ban might have a "chilling effect" on recruitment of international students from other countries. "The administration has sent a terrible signal," he said.
About a quarter of the 4,000 students on the school's Manchester campus are international, many of them Muslim, said LeBlanc, and he is urging them not to travel.
If fewer international students did attend SNHU, it "would have a big impact on our budget, but also a on Manchester's merchants," LeBlanc said. He cited a recent third-party study that concluded that the economic impact of these students on the local area amounted to $36 million.
Similarly, 400 international students are crucial to the bottom line of New England College, a liberal arts college in Henniker. "They represent one of our very important revenue streams, and we wouldn't want that to dry up," said David Deziel, a college spokesperson. However, he said his greater concern is for the students and even the staff. One professor has a brother in Iran who was about to immigrate to the U.S. with his wife and daughters.
The college also said it backs the Association of American Universities statement.
The Association of Catholic Colleges and Universities has also came out against the ban, noting that "Pope Francis has said that 'authentic hospitality is our greatest security against hateful acts of terrorism.'"
One of the members of that association is St. Anselm College in Goffstown, whose president, Steven R. DiSalvo, issued a statement that read, "We pledge to help in any way we can and to continue to create a welcoming community that does not change the way of American life as it has been since the Founding Fathers determined that we would live under the tenet of liberty and justice for all without discrimination based on religion."
A NH physician's 'surreal' experience
Born in the United States, Dr. Omid Moghimi was hoping to settle down in New England after finishing his internal medicine residency at Dartmouth-Hitchcock Medical Center and practice in an area that sorely needs primary care physicians as well as to stay close to his family — his parents in Nashua and his brother in Massachusetts.
There's only one problem: His wife is stranded in her native Iran, one of seven countries targeted in President Donald Trump's temporary travel ban. And if that ban becomes permanent, "myself, an American-born citizen, will be forced to live elsewhere if I can't have my wife with me. It makes me very upset," Moghimi told NH Business Review.
Moghimi isn't the only one who's upset.
"He is a great resident. We really worked hard to keep him," said Dr. Kenton Powell, his attending physician, who wrote letters to his congresswoman, senator and even President Obama after the election and before the inauguration to help expedite Moghimi wife's long visa process. It would have culminated in a live interview in the United Arab Emirates on Feb. 2, but Trump issued his order denying entry immigrants and nonimmigrants on Jan. 27, canceling the interview.
Moghimi, at 28, is a prime example, even though he is a natural-born American citizen.
Born of an Iranian professor and a stay-at-home American mom, Moghimi doesn't remember much of his childhood in the United States, because the family moved to Iran when he was 3, when things calmed down after the Iran-Iraq War. He moved back to the United States at 17 and graduated from Middlebury Union High School in Vermont. He then went on to the University of Pittsburgh and earned his medical degree at Tufts University, from which he graduated in 2015.
Moghimi had known Dorsa Razi before he moved back to the States, and the relationship strengthened during his visits to his family. Razi, an engineering student, left college and became more interested in early childhood education.
Their long-distance engagement stretched over months as they worked to get her a visa. In April, confident about obtaining a visa, they were married.
But there were delays in the visa process. He had to update his financial information, for instance, to show that he could support her. Finally, when his wife's interview was scheduled for Feb. 2, it looked like everything was in order. She had to get a medical exam, and he bought her a plane ticket. Then the ban was instituted and the interview postponed indefinitely.
Moghimi and his wife are Muslim, but he doesn't want to speculate over whether there has been religious discrimination involved in the travel ban. He does feel that it is discrimination based on national origin. He noted that there have been no fatal terrorist attacks in the United States by Iranians. (There was one failed terrorist attack by an Iranian-born national citizen in 2006.) And "in this particular case of my wife, it is so ridiculous that she is any kind of a risk and threat. If there was a shred of evidence I could understand," he said.
Moghimi said he could handle another 90 days. After all he has been at this for about 18 months now. But when he scrutinized the order, he thought that it could become permanent.
"This is just so surreal and unbelievable and completely unfair," he said.