Windows XP refresh rate gives PC Connection temporary boost
Projects from large businesses and institutions beef up quarterly profits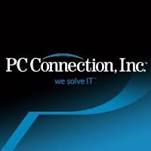 PC Connection had its most profitable quarter ever thanks to some pent up project rollouts and the expiration of Windows XP, but the Merrimack-based firm predicted that growth will slow down over the next year.
The company, which now primarily sells informational technology to businesses and institutions, reported a net income of $11.4 million, or 43 cents a diluted share, up 25 percent compared to the second quarter of 2013. That brings the net income for the first half to $18.6 million, a 22 percent increase.
Sales were up as well, 14.6 percent to $633 million for the quarter and up 12.3 percent to $1.2 billion for the first half. The company assets are now up to $567 million, of which $60 million is in cash and equivalents, the latter up approximately $20 million since the beginning of the year. Stockholders equity also increased by about $20 million to $339 million.
The percentage of profit increase exceeded the percentage of revenue growth, despite the 30 percent increase in notebooks and tablets. That's because while notebooks and tablets are PC Connection's largest category it also has the least profit margin. The notebook increase was driven by expiration of Microsoft support for its Windows XP operating system in April. But CEO Tim McGrath noted XP "refresh activity" accounted for less growth than the first quarter – only about a third of the second quarter growth overall. Most of the quarterly growth was due to big projects by larger businesses and institutions that had been put off because of the sluggish recovery from the recession. And such projects generate larger profit margins.
Federal government spending, which took a hit during Congressional budget woes in 2012, went up 25 percent, and commercial sales increased by 12 percent.
But don't expect the sales growth and profits to continue to grow at that rate, McGrath cautioned. The XP refresh rate will continue to decline and the first half numbers will be hard to beat.
"We are looking a mid single-digit for the balance of 2014," said McGrath, according to a transcript provided by SeekingAlpha.com. "Probably a touch below that for the first six months of 2015."