Wind farm in Lempster picks up steam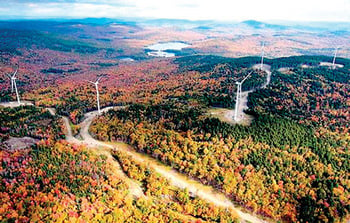 It's a bit behind schedule, but a $48 million project to bring wind power to New Hampshire via a dozen huge turbines near Mount Sunapee should be up and running at full power by Christmas.
The 24-megawatt installation will produce enough electricity to power roughly 10,000 homes a year. The first of its 12 turbines on a ridge near Mount Sunapee cranked up Oct. 21, and four more followed suit by a few days later.
Lempster Wind was built and funded by Spanish energy giant Iberdrola Renewables, which has built and operates 8,000 megawatts worth of wind projects around the world, enough to power all of New Hampshire several times over. It was supposed to have been finished in late summer, but delays in the delivery of various components held it up, officials said.
Iberdrola officials declined to give the cost of the project, but indicated that it was about the industry average of $2 million per megawatt, or about $48 million. That includes the cost of upgrading some 10 miles of electric lines along Route 10, carrying the wind farm's power to a substation in Newport.
New Hampshire Electric Cooperative, which got its start in Lempster in 1939, will buy the remaining 10 percent of Lempster Wind's output. The project will also allow utilities to buy some of the renewable energy certificates, or RECs, that they need to meet state mandates.
All 12 of the project's 240-foot-tall towers have been erected along the Lempster Mountain ridgeline, and most of them have their 70-ton gearboxes and trio of 139-foot-long rotor blades installed.
Lempster, which has about 1,000 people, should profit from the project, which is expected to raise its total tax base from about $117 million to around $150 million, Lempster Selectman Ed Everett Thurber said.
The town and state are still negotiating with Iberdrola about the exact amount of payments it will make.
Concern about appearance, and about the effect of the large construction work stretching along about five miles of ridgeline, led several landowners in and around Lempster to file opposition to the project after it was proposed, some four years ago.
Thurber said his only concern was how the turbines would sound when they start spinning.
Late to wind
One big fan of the project is Kevin Onnela, who owns the land where 10 of the 12 turbines are located. His mountaintop home once got all its electricity from a small windmill in his yard, he said, so he was happy to enter into the 30-year lease agreement with Iberdrola.
"There have been a lot of local people employed with this project," he said. "I'd hate to guess how many millions of dollars this project has injected in our community."
About 120 people were working at the construction site at its maximum, said Edward Cherian, development director for Iberdrola Renewables in New England. Three or four people will work at the site for operations and maintenance.
New Hampshire was early to wind-power research. A series of small windmills atop Crotched Mountain in the late 1970s may have been the first concentrated wind power research project in the country.
But it has done little since and is late to utility-scale wind power. Vermont, Maine and Massachusetts all have operating wind farms at least as big as Lempster Wind; although in none of those states does wind meet even 1 percent of total electricity needs.
It seems likely that the biggest wind projects in the Northeast will be located several miles offshore, where winds are steadier and there is less opposition from neighbors.
Rhode Island, Delaware and New Jersey are all pursuing studies of offshore wind farms that would be 10 to 20 times as big as Lempster Wind, and Massachusetts has been wrestling for years with environmental opposition to a huge proposed wind farm between Cape Cod and Nantucket.
In New Hampshire, a wind farm that would be four times the size of Lempster Wind is planned in the North Country by Connecticut-based Noble Environmental. But the credit turmoil and bankruptcy of financial services firm Lehman Brothers have apparently led Noble Environmental to scale back its plans for 2009.
Noble had filed with the U.S. Securities and Exchange Commission in May for permission to issue millions of shares of stock. Lehman Brothers was one of its underwriters.
New York state Attorney General Andrew Cuomo also is investigating the firm. His office has subpoenaed land agreements and easements Noble received from property owners and public officials.
The Noble project faces another obstacle as well: Its 99-megawatt capacity would use up all the excess capacity for power lines carrying energy down from North of the Notches, leaving nothing for several proposed wood-burning power plants unless some $200 million worth of upgrades are made to the electrical grid.
This fact has led to opposition from some Groveton area residents, who would prefer wood-burning plants because they generate many more jobs.
No matter what happens there, however, Lempster Wind will stand alone in New Hampshire for years.
"It's kind of a tourist attraction," said state Sen. Bob Odell, who lives in Lempster. "I had visitors come over from south of Claremont, to see the windmills."
– DAVID BROOKS/THE TELEGRAPH