Wilton students learn about rain forest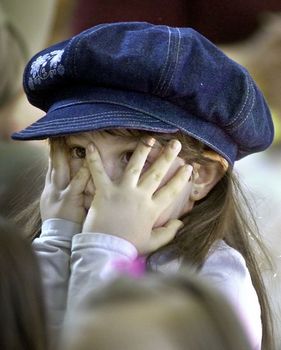 There were several unusual visitors at Florence Rideout Elementary School in Wilton on Thursday, but the hit of the day was clearly a 3-foot American alligator named Fluffy.
Fluffy, and friends Zoe, a 6-foot Argentine boa, Georgie, a South American tortoise, and a so-far-unnamed black-throated monitor lizard from Africa, are stars of the Rain Forest Reptile Show. The show ran all day, giving all the students a chance to see the reptiles, and at the end, everyone who wished got to hold Fluffy, with his big, toothy mouth carefully taped shut.
Several other examples of frogs, snakes, a gecko and a tarantula were on hand to view.
Professional herpetologist Michael Ralbovsky presented an hour-long show, filled with facts, fancies and a lot of good advice on the side. The show is geared to the audience and designed to teach respect for animals. He kept the students laughing through the program.
Why is it important to preserve the rain forest? To make clean air, students said, to provide a place for animals to live, to preserve endangered animals. All true, Ralbovsky said, "but the real reason is chocolate!"
Chocolate does not grow in direct sunlight, it needs the taller trees, and what would we do without chocolate?
Ralbovsky said he is one of about a dozen people in the country who have cared for, maintained "and been chased by!" all 23 species of crocodilians: the alligators, crocodiles, caimans and their relatives.
While explaining that tortoises like Georgie can live for 100 years, monitor lizards smell with their tongues and can grow to 6 feet long, and snakes don't have slimy skin, Ralbovsky offered a lot of advice.
"Read. Use the library," he said. "Everyone has to know math. Don't watch so much television. Study. Don't do drugs."
Fluffy, he explained, was found in a house in Massachusetts being used as a guard for a cocaine stash.
"Drugs are very bad for you," he said.
He gave the students several new "vocabulary words." Reptiles are no longer referred to as cold blooded, he said.
"We call them ectothermic. Ecto for outside, thermic for heat. They are the temperature of the outside air," he said.
Alligators have a row of unconnected bones in their backs that act as solar energy collectors, he said, warming them up.
He explained the various special adaptations of the reptiles, comparing them to wearing glasses or shoes, things to make life easier.
The program was presented by Rain forest Reptile Shows, a family business established in 1993. Ralbovsky received his training at St. Augustine Alligator Farm and Zoological Park in Florida, where Fluffy will retire when he outgrows the show.
For information, call 1-978-922-5107; e-mail reptileman@rainforestreptileshows.com; or go to www.rainforestreptileshows.com.
Jessie Salisbury can be reached at 654-9704 or jessies@tellink.net.