Wilton, Nashua residents represent N.H., Mass. in bee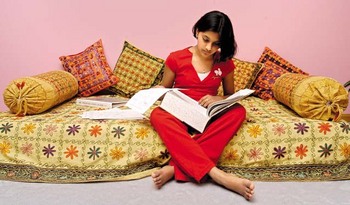 Sahiti Surapaneni will readily admit she can't spell "supercalifragilisticexpialidocious."
Elicia Chamberlin jokes that when her classmates put her on the spot, she flubs the easiest of words.
But these 13-year-olds have shown no strain under the unsympathetic spotlight of competition. Both won several contests – school, regional and state – to earn the right to string letters together this week at the Scripps National Spelling Bee.
They will compete with 263 other spellers – word aficionados hailing from Alabama to Wyoming, with contestants from American Samoa, Germany and Saudi Arabia in between.
"My mom's more worried than I am," Sahiti said.
Indeed, Sahiti and Elicia hardly painted a picture of concern last month as they prepared for the bee, which starts today with a 25-word written test and continues with the more familiar oral rounds Wednesday and Thursday.
They appreciate the chance to compete in Washington, D.C., but do not see the contest as a make-or-break statement. They want to enjoy the moment, and will find the time to spell among other activities.
Sahiti does consider spelling a hobby, and even dreams about articulating the proper letters on a stage. But as with many teens, she has other interests: movies, coin collecting, swimming and tennis.
Elicia has an affinity for circus arts, particularly splits, handstands and contortion. She trains on a long, blue aerial fabric hung in her living room.
Although they will officially represent two different states, they will boost this state's spelling spirit twofold.
Elicia, the sole representative for New Hampshire, is a seventh-grader at Pine Hill Waldorf School in Wilton, where she lives.
Even though Sahiti lives in Nashua, she is one of five contestants representing Massachusetts because she is a seventh-grader at the Academy of Notre Dame in Tyngsborough.
It's not uncommon to have a contestant representing a state other than the one he or she lives in, said Cybelle Weeks, a Scripps bee administrative assistant. The El Paso Times newspaper, for instance, sponsors spellers who represent Texas, but those contestants can hail from Texas or New Mexico because of the paper's circulation area, Weeks said.
New Hampshire – a state that has only one official representative – has rarely, if ever, had two of its own participating in the same bee. In the bee's 76-year history, no New Hampshire speller has ever won.
Elicia and Sahiti also share the distinction of being first-time contestants in the bee, which is open to students who have not gone beyond eighth grade. They will share the stage with youths who have the advantage of having been there before, spellers accustomed to ESPN cameras and a national audience.
But competitive pressure and the attendant thrill of success – as seen in the recent hit documentary "Spellbound" – motivate Elicia and Sahiti. They had participated in bees before the movie's release, but felt a surge of interest after seeing on the silver screen spellers navigating the Scripps contest.
"I'm really amazed," said Elicia's mother, Shannon Chamberlin. "I can't spell. And I think, 'She's not going to get this word in a million years.' And then she astounds me."
Sahiti surprised her parents, Kalidas and Padmaja Surapaneni, with her first school-based bee, simply because she didn't tell them she was participating.
The Surapaneni family left the Indian city of Hyderabad about seven years ago for America. Padmaja Surapaneni remembers seeing her first national bee, televised live on ESPN. She was fascinated by the competition but never dreamed her daughter would one day perform before those same television cameras.
"She's got what I call a grasp for words," Kalidas Surapaneni said. "Although, her school bee this year was more nerve-wracking." Added Sahiti: "It was never-ending."
Elicia and Sahiti have learned the spellings of hundreds of words. It also helps to know what words mean and how they are pronounced, so they will have a better sense of what they need to spell.
Words can be as common as "quaint." Or they can be as rare as "misocainea," the word for an abnormal hatred of new ideas.
Sahiti reviewed words for about an hour or two each night, but not before first completing about two hours worth of homework. She used a guide provided by the bee, and sometimes sought the help of her parents.
She hoped to master the Greek and Latin origins of words before the big show. In the meantime, she honored her classmates' "crazy requests" to spell words like "oomph."
Elicia studied in the afternoon, sometimes treating her aerial fabric like a hammock, curling up with her spelling materials. A consolidated word list she discovered on the Internet made practice easier.
Long words, especially those with Greek roots, are easy to spell, Elicia said. It's the short, quirky words, some of them French, that can trick her.
She had always known the meaning of words but "couldn't think of them at the right time," she said. Her foray into competitive spelling has strengthened her vocabulary, and she has finally mastered what had been a tough word for her: "ayatollah."
Elicia said she planned to stop studying when she arrived in Washington, and she looked forward to taking a bicycle tour of the city.
"I spend most of my time spelling. I'm looking forward to it being over so I can do the circus," said Elicia, who trains with circus performers in Brattleboro, Vt.
Chamberlin marveled at how her daughter has approached the bee with a proper balance: just enough seriousness, but with a modicum of fun.
Kalidas Surapaneni appreciated that his daughter is taking the same tack.
"We're not putting any pressure on her, except for the occasional nudge" to study, he said. "We're letting her have fun."
Albert McKeon can be reached at 594-5832 or mckeona@telegraph-nh.com.