Will New Hampshire take the leap to ban plastic bags?
Proposed ban stirs debate between proponents, retailers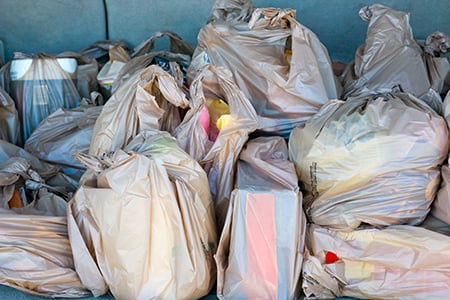 New Hampshire may be on the verge of joining a growing movement toward essentially banning the use of single-use plastic bags.
On March 19, the House voted to ban retailers from giving out single-use plastic bags and requiring them to charge at least a dime for a reusable one. California is the only state to do so thus far, but that is about to change, whether Granite State moves forward or not.
New York, as part of a budget deal, agreed to do so by next March. Boston's ban went into effect at the start of this year. It joined nearly 100 municipalities in the state. In fact, the ban has become so widespread that the Massachusetts Food Association agreed to support a statewide ban, albeit with a slower time line, if only lawmakers there allowed for a longer phase-in period.
Vermont's Senate passed a ban in March, and Maine has legislation in the works, but 20 communities – including Portland – have already passed bans.
New Hampshire municipalities can't ban use of the bags on their own, though bills to allow them to do so (House Bills 102 and 559) have been retained in case the statewide ban doesn't go through.
Ban details
The statewide ban, HB 560, still has to clear the Senate and get past Gov. Chris Sununu. (At deadline, Sununu's press spokesperson has not responded to inquiries.)
Such bills have gone down in defeat in the past in New Hampshire and elsewhere, but things have changed the last election when control shifted in many state houses.
"I've been in the Legislature for 20 years, and there are bills passing that would never pass in a Republican legislature. There has a been bottleneck that has opened," said Rep. Judith Spang, D-Durham, sponsor of HB 559 and HB 560.
The latter bill doesn't exactly ban all plastic bags. When you read the fine print, it prohibits certain stores from giving out certain bags to most customers.
It only affects retailers with more than 1,000 square feet of space in a single location. The legislation also is primarily aimed at single-use plastic bags used to carry out merchandise and groceries, not such things as bags for uncooked meat, or those used for bulk produce and specifically bags to be placed over articles of clothing on a hanger.(Most paper bags are also exempted, since they are recyclable and are made out of 40 percent recyclable material.)
Stores can provide single-use plastic bags for at least a dime, but only for four months after the bill's effective date, which would be six months after passage.
Stores can also sell for a dime or more – indefinitely – reusable bags, which must be made out of a fabric that can be washed, be at least 4 mils thick and can be used at least 100 times. (Food stamp and the WIC recipients are exempt from having to buy them.)
'Abusive requirement'
Finally, businesses with spaces over 10,000 square feet have to provide a bin to collect all plastic bans not banned under the law.
That is the law's most "abusive requirement," wrote New Hampshire Retail Association President and CEO Nancy Kyle in an op-ed. The bill, she said, is aimed at brick-and-mortar retailers, but what about the "vast amounts of waste generated by packaging that comes along with products purchase via online shopping?" Already under sharp competition now, "retailers, or any business with a space that meets the criteria, could be stuck with mountains of trash they didn't generate"
The Retail Association also takes aim at the 10,000-square-foot provision, noting that chain stores have kiosks smaller than that and will have an advantage over mom-and pop stores that don't have those advantages of scale.
The NH Grocers Association also fiercely opposes the bill, arguing that it would result in a shift to paper bags, which are heavier and take up six times more space in a delivery truck, so think of all the extra pollution that would entail, argued the association's president, John Dumais, told NH Business Review.
The bill would also undercut the "convenience factor" of grocery stores on the border, which would hurt New Hampshire if it went first on a ban, Or help it, he hastened to add, if it went last or not at all.
Finally, he didn't like the idea that grocers "are going to take the heat" for collecting a dime mandated by the state.
Grocery stores already take back plastic bags and encourage their reuse, he said. And they can be recycled and used in such items as lawn furniture.
"We don't have a plastic bag problem, we have a behavior problem. The question is, do you dispose of it properly?"
But people don't, argued Cathy Corkery, the New Hampshire Sierra Club's chapter president. She estimated that 10 percent of plastic with handles are recycled. Whatever small burden that it causes people to buy or bring their own cloth bag is outweighed by "the larger burden on wildlife and the ocean," she said.
Spang dismissed objections to her bills as "generalizations with no data to back them up." She noted that more than 100 New England communities already ban the bags, and "there is no indication whatsoever it has an adverse effect, but there is substantial data that it is saving municipalities money."
The bags not only take up landfill space, she said, "they gum up the recycling machines. They clog storm drains. Taxpayers are paying for the convenience of the grocery shoppers."