Who's best for small business?: John McCain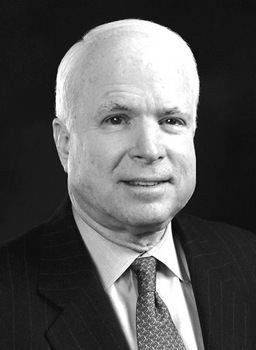 Readers of New Hampshire Business Review know better than most the importance of small business to New Hampshire. Over 95 percent of Granite State workers are employed by one of the state's approximately 40,000 small firms.
In these challenging economic times, we need a president who understands the needs of small-business owners and who has a record of delivering results. That man is John McCain.
I am proud to lead New Hampshire Small Business Leaders for John McCain, a broad coalition of more than 80 small-business men and women from across the state who support McCain for president.
Dedicated to spreading the word about his pro-growth, pro-jobs vision, the group will work on a person-to-person basis to build support for McCain within the small-business community.
John McCain recognizes that low taxes mean Americans will be able to invest more of their own money in the economy.
Because many smaller firms are owned predominantly by middle-class families, McCain's plan calls for the elimination of the alternative minimum tax — a tax that threatens 25 million middle-class families. Additionally, McCain proposes doubling the personal exemption for dependents, from $3,500 to $7,000. These are real tax savings for working families and many small business owners.
With a crippling tax increase scheduled for 2011, McCain, unlike Barack Obama, will work to maintain the current income and investment tax rates. He will even go a step further by sounding a call for a new law that requires a three-fifths majority vote in Congress to raise taxes.
Recognizing the critical need for businesses to have the tools they need for success, McCain's jobs plan permits businesses to immediately deduct first-year equipment costs. Expensing of equipment and technology will provide an immediate boost to small firms and reward investments in the cutting-edge technologies that are a cornerstone of many New Hampshire businesses.
As pro-growth as John McCain's job creation plan is, Barack Obama's schemes would take our country in exactly the opposite direction. It is a certainty that small-business owners will see their taxes rise if Senator Obama becomes president. Of particular concern is Obama's plan to eliminate the Social Security earnings cap, thereby increasing the tax on employers.
How do we know Obama will raise taxes? Because he's done it before. Last year, Obama cast a vote to increase taxes for those making as little as $32,000. In fact, he has voted at least 94 times for higher taxes in the U.S. Senate, despite past promises not to raise taxes on the middle class.
Reading the pages of New Hampshire Business Review, it is clear that many small-business owners are rightly concerned about the cost of providing health insurance for their employees. John McCain recognizes this challenge and has put forth a proposal to empower Americans to take control over their own health-care costs.
To increase the portability of care, McCain's plan calls for tax credits — $5,000 for a family or $2,500 for an individual — to help with the cost of purchasing private insurance. Although workers would still be able to access employer-sponsored coverage if they so chose, McCain would dramatically broaden health-care options, and take a step toward relieving a burden from many small business owners.
At a time when New Hampshire small businesses need Washington to get out of their way, we cannot afford to have a president who will raise taxes, increase regulation and stifle growth. John McCain understands the challenges facing our economy and has a comprehensive plan that will help jumpstart our businesses.
Jim Burke, chair of New Hampshire Small Business Leaders for John McCain, is president of Burke Advertising, Bedford.