Whole Health Expo returns to New Hampshire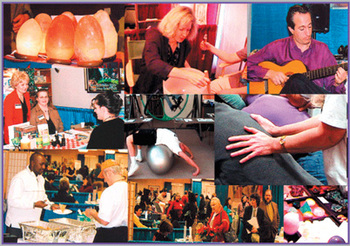 For some, the term "healthy" applies to physical well-being – the result of good nutrition, an active lifestyle and regular visits to the family doctor. An increasing number of people, however, are adopting a more holistic interpretation, expanding their definition to include mental and spiritual well-being as well.
If you happen to fall into the latter category, keep Saturday, Sept. 15, and Sunday, Sept. 16, open and plan on attending the 2007 Whole Health Expo at the Radisson Hotel Manchester. Admission is $10 for one day or $12 for both days.
The annual Whole Health Expo is a one-stop-shopping opportunity for people hoping to explore traditional and not-so-traditional ways of enhancing their physical, mental, emotional and spiritual health. Where else can you go to recruit chiropractic services, take a yoga class, get tips on organizing your life, have your aura read and shop all at one time?
Although there may not be one universally accepted definition for "holistic health," Suzan Walter, president of the American Holistic Health Association, promotes the idea as "an approach to creating wellness which balances and integrates your physical, mental, emotional and spiritual aspects, establishes respectful, cooperative relationships with others and the environment, making wellness-oriented lifestyle choices and actively participating in the health and healing decisions that affect your own life."
Maura Kingsley, a mother of two young boys, has worked to incorporate more of these holistic practices into her life since attending last year's Whole Health Expo.
"I think more and more people are beginning to understand the connection between emotional and spiritual health and their physical health," said Kingsley, who was introduced to the ancient hands-on healing practice of Reiki during last year's expo and has adopted better eating habits and a more sustainable lifestyle for her entire family.
"Life can get crazy. It seems like we spend most of our time looking forward to the weekend rather than enjoying where we are at the moment – that's just not good. I found the expo reminded me that I should be participating in my life rather than just getting through it, and gave me the tools to do just that. It also reminded me of the connection we have with the planet and the important role we have in caring for it."
Many of the people Kingsley saw and spoke with at last year's expo will be there again this year. More than 50 exhibits will be offering goods and services related to enhancing natural health, personal and spiritual growth and global change.
Experiential learning carries from the exhibit hall to the 50 workshops and presentations scheduled throughout the weekend. Topics addressing physical health include everything from healing digestive illnesses and managing chronic pain to weight loss and acupuncture.
Spiritual topics will include spirituality through hypnosis, angels and healing, the role played by the body's energy centers and sexual healing and enrichment.
Topics of the lifestyle presentations and workshops scheduled include tapping into our hidden potential, getting organized and relieving financial stress. Talks and demonstrations on Zen yoga, quantum biofeedback and harnessing our intuition are also on the agenda.
The Manchester event will be one of six Whole Health Expos scheduled throughout New England. The event returns to the Granite State on April 26-27, 2008, when it will be offered in Portsmouth.
For more information about the September 15-16 Whole Health Expo, including a list of exhibits and schedule of workshops and presentations visit www.wholehealthexpo.com.