Whole Foods to open off Exit 7 in Nashua
The natural foods grocer will be opening its first N.H. location at the Turnpike Plaza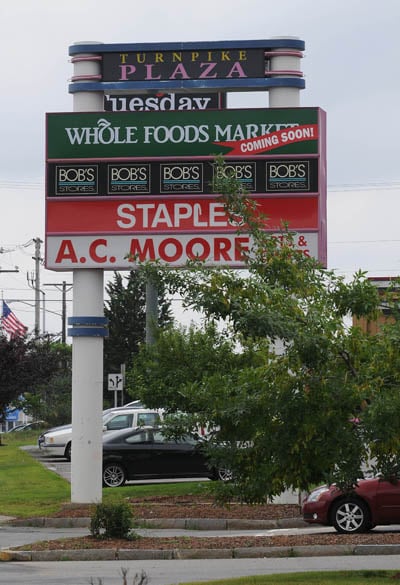 A sign for a Whole Foods supermarket was being installed at the Turnpike Plaza in Nashua Tuesday afternoon, confirming that the natural food grocer is finally opening its long-awaited first New Hampshire location there.
"Yes, I can confirm that we are developing a store on Amherst Street in the Turnpike Plaza in Nashua," Whole Foods Market spokesperson Heather McCready told NHBR in an email. "The store will likely open in 2014."
Whole Foods has been teasing a Nashua location for years, long listing Nashua on its website as a future site for the grocery chain.
Market Basket moved out of the Turnpike Plaza in June, and that led to some speculation that the plaza may be the future home of the city's Whole Foods Market. The plaza, which is off Exit 7 on the F.E. Everett Turnpike, is also home to a Bob's Store, Staples and A.C. Moore.
"We are so excited to have this opportunity to bring Whole Foods Market to New Hampshire," said Laura Derba, North Atlantic regional president for Whole Foods, in a statement. "We have been searching for the perfect location to serve the community with a full shopping experience and we are pleased to have found it in Nashua."
Whole Foods initially announced that it would open a Nashua store in 2007, but the project ended up being put on hold due to the economy in 2009.
Whole Foods Market – based in Austin, Texas – was founded in 1980 and is known for its selection of natural and organic foods. The publicly traded company has more than 76,000 employees and 355 stores in the U.S., Canada and the United Kingdom.
McCready said because "we are so early in the process, I don't have any further information to provide at this time" about the store, such as how many workers it will employ or what month it is slated to open.
Increasing competition
Whole Foods announced its entry into New Hampshire just as two other grocery chains are pulling back their presence in the state. Stop & Shop announced earlier in August that it would shutter all six of its New Hampshire stores and three gas stations by September, just a week after Shaw's said that it would close six of its 34 stores in New Hampshire.
At the same time, Market Basket has gone on an aggressive growth spree in New Hampshire, adding several new locations in the state in the last several years with plans to add more. Trader Joe's has also recently made inroads into New Hampshire, moving its Tyngsborough, Mass. store a mile up the road into Nashua and opening a second location in the state in Portsmouth in 2012.
Aldi, a German chain that offers its own brands, and Fresh Market, a small, upscale grocer, also both opened their first New Hampshire stores in 2012.
The moves come amid increasing competition in the grocery industry, as more and more retail outlets battle for consumers' limited food dollars. Big box stores, such as Walmart and Target, have expanded their grocery sections in recent years, while so called small-box stores – such as Dollar General – have expanded in the state, offering up a solid range of dry goods. On top of that, competition from club stores, like Sam's Club and Costco, as well as farmers' markets, food co-ops and even drugstores has put pressure on traditional supermarkets.
A recent UBS survey found that traditional supermarkets had a 66 percent market share in 2000, which had fallen to just more than half – or 51 percent – by 2011.
While middle-of-the-road grocers are feeling the squeeze from increased competition, industry analysts say there is still growth in either end of the spectrum – both in value brands and higher-end grocers, like Trader Joe's and Whole Foods.